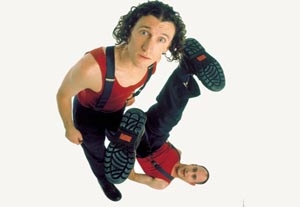 This is Back Stage's review of the show's 2006 run, under a slightly different title, at the New Victory Theatre. According to the production's press rep, the current version at the Joyce is largely unchanged but is no longer being marketed as a show for children
.
Written, directed, and performed by David Collins and Shane Dundas, two madcap physical comedians from Australia,
Speedmouse
:
The Worst of the Umbilical Brothers
is a wonderfully wacky fusion of mime, slapstick, and standup comedy. My only complaint about the zany, 80-minute production is that it's too loud and more violent than a performance advertised for ages 10 and up should be. It opens with deafening rock music and contains frequent blasts of ear-splittingly amplified noises, as well as some cruel and tasteless acts of physical nastiness.
The show is undeniably hilarious, however, as it thumbs its nose at everything from digital technology and Arnold Schwarzenegger to lazy stagehands, Olympic competition, underwater ballets, and any and all forms of physical theatre. Particularly amusing is a scene in which Dundas portrays a pretentious German lecturer sternly extolling the greatness of the European mime tradition, while Collins—in clichéd Marcel Marceau fashion—demonstrates such pantomime classics as The Wall, Walking Against the Wind, and Pulling on a Rope.
Though children in the audience certainly seemed to enjoy the show, one suspects it was largely the funny voices, oddball sound effects, and silly actions that they found entertaining. Much of the real humor in
Speedmouse
is topical and depends upon an understanding of parody combined with an adult level of general knowledge. So if you're looking for smart laughs, no matter what age you may be, head over to the New Victory and delight in the witty wildness offered by this deft, daffy duo from Down Under. If, in order to justify reveling in such clownish entertainment, you feel the need to take a child to the theatre with you, don't forget to have the kid bring a pair of earplugs.
Presented by CAMI Spectrumat the Joyce Theater, 175 Eighth Ave
.,
NYC
.
June 30
–
July 11. Mon
.–
Wed
.,
7:30 p.m
.;
Thu. and Fri
.,
8 p.m
.;
Sat
.,
2 and 8 p.m
.
(
212
)
239-6200
, (
800
)
432-7250, or www.telecharge.com
.