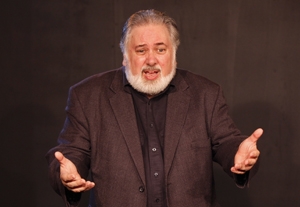 First performed in 1997, when playwright Conor McPherson was only 26, "St. Nicholas" is now principally interesting as a preview of coming attractions: sterling plays such as "The Weir," "Shining City," and "The Seafarer." This early work, a single-character monologue, is alive with youthful excess, both positive and negative.
Already McPherson demonstrates a way with words, as well as an underlying need to deliver a moral fable to his audience. But this freewheeling modern gothic tale about a theater critic meanders, with often the haziest narrative details. Ironically, it is frequently least credible when it speaks about the most ordinary things. The vamping vampires who inhabit the story often seem more convincing than the details of the critic's domestic life.
The unnamed critic (John Martello) has made a career of handing out vitriol in Dublin, to the point of almost being bored by the process. McPherson provides him with a conventional family: a clever daughter, a loafing son, and a wife he has grown away from. When he falls for an actor named Helen in a local production that is to go to London for two weeks, he pursues her. After a drinking bout—of course, there's a lot of intoxication, with several plugs for Glenfiddich Scotch whiskey—our man wakes up in a London park and meets William, who just happens to be a vampire. The critic is taken home to meet William's female roommates, and it's a long time before the name Helen gets mentioned again.
In this fever dream of a play, McPherson's moral seems to be that vampires do not have a conscience, while our critic reluctantly realizes that he does. Apart from the central theme, the playwright resists taking comedic jabs at the theater world, to his own detriment. Only in the play's final words does the theater audience become the "embodiment of hope."
With just a chair on a bare stage and Mary Jo Dondlinger's helpful lighting, Martello, directed by Alex Dmitriev, has to work hard to spin this less-than-spellbinding tale. Still, the actor tosses off McPherson's wayward words with considerable skill, in a convincing portrait of a critic consumed by his own power.
Of course, such a critic is unlike anybody we know.
Presented by and at the Irish Repertory Theatre, 132 W. 22nd St., NYC. Oct. 20–Nov. 28. Wed.–Sat., 8 p.m.; Wed., Sat., and Sun., 3 p.m. (212) 727 -2737 or www.irishrep.org.