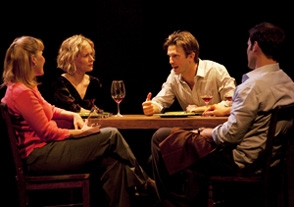 I have always admired the magician. He tells us exactly what he's going to do, you watch him do it, and yet he still manages to amaze us. Even if you know how the trick is done, the details have a sort of alchemy. I kept thinking of the magician's artistry during Alex Dinelaris' "Still Life," a funny, earnest tearjerker that telegraphs nearly every move yet had me shedding a tear at the end.
The play's subject is death, approached from the complementary perspectives of ad man Jeff (Frederick Weller) and photographer Carrie Ann (Sarah Paulson), two attractive, intelligent, unhappy New Yorkers. She hasn't picked up a camera since her father died; he hates his job, and hates even more that he's good at it. Their conversations are variations on those we've all had, but wittier, more poetic, skipping over the boring parts. They speak with, not at, each other, a distinction few contemporary playwrights master. In his sparkling dialogue and its underlying gravity, Dinelaris is like a sad-eyed Aaron Sorkin. (This is meant as a compliment.) 
He runs into trouble, though, in trying to incorporate a third viewpoint. In addition to Carrie Ann, the watcher, and Jeff, the conflicted participant, we get Terry (Matthew Rauch), the unrepentant doer. He's written and played like a refugee from a Mamet play. Amazingly, this isn't the problem, for Dinelaris nails the bilious, rapid-fire dialogue and Rauch the delivery. The issue is that the character runs out of steam then vaporizes. There's no satisfaction in his relationship to the other characters or the play's themes. 
Neither this nor the thin writing of two luxuriously cast supporting roles—Dominic Chianese as Carrie Ann's father, Adriane Lenox as a photography teacher—compromises the overall effectiveness of the portrait. Director Will Frears frames it all nicely and has assembled an excellent group of interpreters, including Ian Kahn (warm and convincing as the doctor/friend who must give Jeff some very bad news), Kelly McAndrew (sharply entertaining as his wife), and Halley Feiffer (a strong, sweet comic presence in multiple roles). Paulson is, as usual, technically skillful and a touch cold. But Weller is nothing short of a revelation, shedding his smug man-child staginess to give a performance as funny and vulnerable as it is adult. 
Other than Weller's breakthrough performance, there aren't many surprises in this play about two damaged people healing one another. Except, of course, the main one: how well a magician—or playwright—can do his job while working in plain sight. 
Presented by MCC Theater at the Lucille Lortel Theatre, 121 Christopher St., NYC. Oct. 5–Nov. 1. Tue.–Wed., 7 p.m.; Thu.–Fri., 8 p.m.; Sat., 2 and 8 p.m.; Sun., 3 p.m. (212) 279-4200 or www.ticketcentral.com. Casting by Telsey + Company.