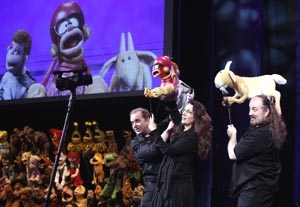 A pair of 400-pound gorrillas hovers over the puppet comedy "Stuffed and Unstrung," and neither is made of cloth with halved ping-pong balls for eyes.
One is clearly Jim Henson of Muppets fame. His son Brian Henson co-created the show (with Patrick Bristow, who acts as onstage host), and the shadow of the late master puppeteer is everywhere, from the design of the puppets to the quirky—but often dated—humor. In fact, a few bits are exact re-creations of early Henson classics, including "Java," about a pair of competitive inchworms. (They show a videotape of the original before performing the piece live.)
Looming even larger is "Avenue Q," the long-running Broadway (and now Off-Broadway) hit involving hand puppets singing about sex, drinking, and Internet porn. Though the musical was obviously inspired by the elder Henson's work (who was considered quite innovative in his youth), its creators added a layer of cheerful ironic wit. The result: "Avenue Q" felt fresh and original.
Now, seven years later, "Stuffed and Unstrung" is the latest in Henson Alternative's fumbling attempts to catch up. Instead of funny songs—though there are a couple—the creators rely on mildly racy improv comedy. It's a strange and awkward fit.
The opener is a videotaped piece featuring two puppets as the show's producers visiting Bangkok to do "research" (implying sex tourism), which comes off as less funny than just plain creepy. Then the cast of six—four men and two women—appears. For much of the evening, Bristow puts the troupe through a string of fairly cliché improv scenarios, such as "What If..." and "Sounds Like a Song," asking for audience suggestions of topics or names and even bringing people on stage. Performers choose from a wall of puppets and play to a camera mounted center stage, which displays the skits on two large screens. (Which begs the question: If these guys are playing to a camera, why are they even on stage?)
The cast creates a few inspired moments, especially Colleen Smith and Tyler Birch in a bit called the "Understudy Version of 'Death of a Waffle Iron.' " But overall the show never finds its footing. Vacillating between wanting to celebrate the past and chase the present, it fails at both.
Presented by WestBeth Entertainment and Henson Alternative at the Union Square Theatre, 100 E. 17th St
.,
NYC. Opened April 1 for an open run. Wed
.–
Fri
.,
8 p.m
.;
Sat
.,
8 and 11 p.m
. (
212
)
307-4100
or
www.ticketmaster.com
.