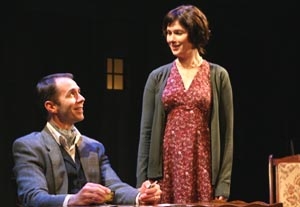 The Keen Company continues its mission of resurrecting overlooked American works with a program of five seldom-performed one-acts by Thornton Wilder. Written at various stages in the playwright's career, from the 1920s to the 1950s, the plays are a mixed bag. One is a light farce on the unsuspected similarities between reality and fiction, two are from an uncompleted series on the seven deadly sins, and two are brief playlets on religious themes. These last two open and close the 95-minute program and provide the highlights.
The curtain raiser, "Now the Servant's Name Was Malchus," takes place in the office of God, who listens to a petition from Malchus, a minor biblical figure. It seems his brief mention in the holy book makes him feel ridiculous and he wishes to be excised from it. The Lord explains that man now regards him as equally ridiculous and asks Malchus to risk humiliation and stay in the Bible with him. "The Angel That Troubled the Waters" is an equally succinct treatise on faith, in which invalids await the foretold visitation of a seraphic being to cure their ills. Keen artistic director Carl Forsman stages these short pieces with a charming simplicity. Sue Cremin is especially moving as the angel in the last play, as are Kevin Hogan and Paul Niebanck as sufferers seeking her comfort.
The bulk of the evening is given over to longer works, mostly played with too arch an attitude. "Cement Hands" is like a New Yorker cartoon from the Roaring '20s, with its dated views on women and money. Set in a swanky Manhattan restaurant, this rumination on avarice centers on a kindly uncle showing his rich niece that her even richer fiancé may be generous to charities, but when it comes to tipping, he's a cheapskate. Director Jonathan Silverstein and cast put across this lightweight confection like a broad TV sketch. Every joke is telegraphed and seemingly followed by a wink.
The titular one-act, about a novelist unaware that his own home contains more thrilling plots than any of his works, is slightly more successful, offering some genuine laughs, but the premise is so thin it evaporates after the climactic blackout.
"In Shakespeare and the Bible" features a strong performance from Kathleen Butler as Mrs. Mowbrey, a former madam seeking to ingratiate herself with an estranged niece through the girl's boyfriend, who happens to be a former client. Butler captures the resilient toughness and pitiable loneliness of this formidable lady. "Women need their wits about them to survive at all," she says, and you can tell she's used all of hers to stay ahead in a man's world. Silverstein's direction here is spot-on, giving the material a straightforward honesty rather than treating it as a gag. Cremin, Clayton Apgar, and Pepper Binkley also shine in this vignette.
Presented by Keen Company at the Harold Clurman Theatre, 410 W. 42nd St., NYC. Oct. 18–Nov. 14. Tue., 7 p.m.; Wed.–Fri., 8 p.m.; Sat., 2 and 8 p.m.; Sun., 3 p.m. (212) 279-4200 or www.ticketcentral.com. Casting by Judy Bowman.