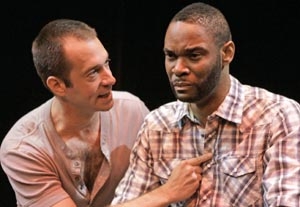 Dysfunctional relationships are at the heart of three of the four one-acts comprising "Summer Shorts 4: Series A," at 59E59 Theaters. Husband and wife, father and son, lover and lover—each of these elemental pairs comes into conflict, but the playwrights explore their disconnections by varying means and with varying results.
The evening begins with "The Expenses of Rain," Deb Margolin's brief, almost-solo play, in which a street eccentric explains why he's waiting for a downpour outside an Asian deli. The storeowner makes a short appearance to douse him with a bucket of water. Iyaba Ibo Mandingo endows Margolin's poetic script with spark as he describes his character's former conventional occupation of shutting off the electricity for Con Ed's delinquent customers.
In Timothy Mason's "An Actor Prepares," Tom, an alcoholic British star, wakes up from a bender to run lines for an upcoming regional production of "Coriolanus" with his son Aran, also an actor. As they rehearse, it's gradually revealed that Tom's personal and professional lives are in ruins, while Aran's are on the rise. It's a tight and insightful work, but the measured staging by Maxwell Williams and the too-quiet performances fail to raise a flicker of passion. Yes, this is a morning-after scene, and both characters are beyond screaming at each other, but there should be some sparks between them. Mark Elliot Wilson lacks the fire to suggest a hell-raiser in the Richard Harris or Peter O'Toole mode, and James Leighton pushes Aran's suppressed anger at his dad so far down that we never even see a hint of it.
There are plenty of sparks in Neil LaBute's "Romance," a two-hander in which a rejected lover confronts a former partner over the latter's flagrant infidelity. LaBute designates the two as A and B and states in a program note that the roles can be played regardless of gender, race, or sexual orientation. Jeff Binder and Demond Green endow these nameless characters with a rich sexual history and then give the material a totally different take when they switch roles. Director Dolores Rice orchestrates their relational shifts with sensitivity. But the idea comes across as more of an acting exercise than a poignant observation on the irrationality of attraction.
Roger Hedden's arch "Play With the Penguin" is performed in between the "Romance" variations like a palate-cleansing dish of sherbet. In this whimsical cartoon of a play, Hap seeks to liven up his marriage to Joy by bringing home a tuxedo-clad cellist and claiming the musician is a penguin they can adopt as a substitute child. It's an amusing little piece, given just the right light touch by director Billy Hopkins, Alex Manette and Allison Daugherty as the couple, and Josh Helman as the cellist.
Presented by Throughline Artists with J.J. Kandel and John McCormack at 59E59 Theaters, 59 E. 59th St
.,
NYC. Aug. 3
–
Sept. 2. Schedule varies
. (
212
)
279-4200 or www.ticketcentral.com. Casting by Billy Hopkins and Jessica Kelly
.