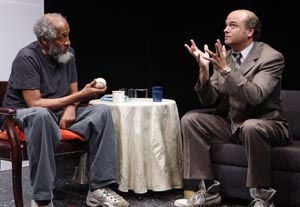 The one-acts of Series B of "Summer Shorts 4" are linked by moments of development and personal growth: a graduation ceremony, a reconciliation, a pregnancy, a reunion. But despite this theme, most of the offerings in this uneven group are underdeveloped, fledgling works that fail to arrive where they intend to go.
The series begins with Wendy Kesselman's "The Graduation of Grace," a one-woman monologue that is barely substantial enough even to be deemed a "short." Clara Hopkins Daniels is Grace, whose eighth-grade graduation speech begins with her discovery of William Blake's poetry. But although the monologue begins to tackle the issue of racism in literature as Grace struggles to reconcile her admiration for Blake with his treatment of "blackness," it is compromised by Stephanie Berry's staging. Daniels makes infrequent trips across the stage, jarringly magnified by needless lighting cues; sometimes her recitations are accompanied by half-hearted dance steps, which detract from the poetry rather than add to it. Daniels also belabors each point in her thought process, "thinking" very visibly; if this were a real speech, audience members would be fidgeting by now.
"Happy," by Alan Zweibel, fares a bit better, mostly due to the presence of Arthur French as the title character: Once a Mets star, Happy is now a has-been who works as a janitor. When longtime fan Donald (Scott Adsit) finally tracks him down, the duo's repartee is clever but imbalanced. Because Donald serves primarily as an interviewer, showcasing Happy's endearing mix of crotchety jabs and relived memories, Adsit is never able to develop a believable character.
Of the four shorts, Neil Koenigsberg's "Fit" is the most unintelligible. Billy Butch (José Joaquin Perez), a cash-strapped fitness junkie, amiably offers sexual favors to Walter (Liam Torres), an over-the-top British fop, in exchange for funds. Scenes fade in and out with little justification; the entire play ends on a climactic moment but gains nothing from it, seeming merely unfinished. With exaggerated characters and blatant pop-culture references, from "Jersey Shore" to Taco Bell, the camp and frothiness of this attempted "American Psycho" for gym rats are undermined by its incomprehensible construction. We end up working so hard to make sense of it that the joyful moments, particularly movement director Liz Milwe's workout sequences, are lost.
The evening ends on a more solid note with "Jonathan's Blaze" by Christopher Stetson Boal. Joseph (J.J. Kandel), guided by an avenging angel, pays a visit to Thomas (P.J. Sosko), an Iraq vet who witnessed a fellow soldier burn to death. Boal's memorable lines—Joseph describes humanity spinning off the earth like "sweat from a basketball"—soften the B-movie premise. Director Alexander Dinelaris' staging is the most successful of the night, navigating the open stage with grace. A red-tinted sky is projected on three scattered wall panels, recalling the flames that haunt both men.
Presented by Throughline Artists with J.J. Kandel and John McCormack at 59E59 Theaters, 59 E. 59th St
.,
NYC. Aug. 10
–
Sept. 2. Schedule varies
. (
212
)
279-4200 or www.ticketcentral.com. Casting by Billy Hopkins and Jessica Kelly
.