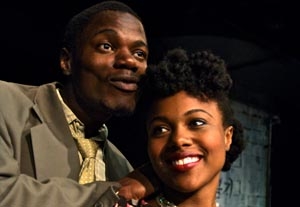 The line that separates a professional production from an amateur one isn't about stars or budget or location. It's a matter of details, such as period-appropriate costumes, not giving characters Styrofoam cups for a play set in 1938, and making the most of a limited playing area. Unfortunately, despite the presence of theater legends Leslie Lee and Woodie King Jr. as playwright and director,
Sundown Names and Night-Gone Things
falls firmly on the amateur end of the spectrum.
Even Lee's script, about an idealistic African-American insurance man named Cairo (Stephen Tyrone Williams) who finds his illusions shattered by his trampy girlfriend and horndog co-workers, loses its potency when spread so thinly over an almost three-hour running time. The premise is a strong one: a play about four African-American insurance salesmen in Depression-era Chicago that deals more with issues of class and misogyny than race. These men (played by Ralph McCain, Marcus Naylor, and Nathan Purdee) have worked hard to achieve positions of power and would rather indulge in racism disguised as classism than help anyone else succeed. But the provocative premise gradually sputters out in too much talking about too little.
Still, though the set changes may be frequent and needlessly complicated and the men clad in pleated khaki slacks, the performances never drop below professional. And, as is only appropriate for a play in which men see women as childbearing drudges or potential conquests, the ladies provide the evening's most consistent pleasures. DeWanda Wise is a foul-mouthed and touching delight as Cairo's loose girlfriend, Ruby, a good-time girl who slowly realizes she's running out of good times. But it's Crystal Anne Dickinson who steals the show as the desperate Mae Ann, who sacrifices herself to one of Cairo's co-workers to keep her insurance. As she is gradually undone by the sexual blackmail, Mae Ann bursts forth with so much anguish and self-disgust that everyone else on stage is eclipsed. Women, according to one of the men, may only be sundown names and night-gone things, but Wise and Dickinson make sure you remember them long after the night has ended.
Presented by the Castillo Theatre and the Negro Ensemble Companyat the Castillo Theatre, 543 W. 42nd St
.,
NYC
.
May 16
–
17 and May 27
–
June 7. Wed
.–
Fri
.,
7:30 p.m
.;
Sat
.,
2 and 7:30 p.m
.;
Sun
.,
3 p.m
.
(
212
)
279-4200 or www.ticketcentral.com
.
Casting by Lawrence Evans
.