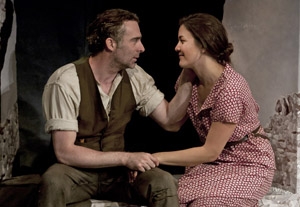 "Temporal Powers" is Mint Theater Company's second Teresa Deevy play in as many years, and with it director Jonathan Bank and his company strengthen their case for Deevy as a formidable and too-long-lost voice in Irish theater. Quite different from last season's "Wife to James Whelan," this 1932 work is a powerful and original consideration of the competing moralities of religion and institutionalized economic inequality in a patriarchal society. It also boasts a fascinating anti-heroine in the embittered Min Donovan, here brought to fierce and unforgiving life by the riveting Rosie Benton.
Having been evicted from their village home because his meager earnings on the land could not pay the rent, Michael Donovan has directed Min, his wife of 10 years, to set up housekeeping in some stone ruins on a hill, until he decides what to do. Deeply disappointed with her life, Min is a font of sharp reproach and sarcastic excoriation of the taciturn Michael. When he accidentally discovers a considerable stash of hidden money, the elated Min insists that they use it to start a new life in America, but Michael wants to give it to the local priest, Father O'Brien. This epic marital battle is punctuated by the well-meaning neighbors who show up to offer aid and comfort. After it becomes clear that village ne'er-do-well Ned Cooney, just out of prison, stole the money, Min conspires with him to forcibly take it from her husband and split the loot.
Ultimately, the cash causes nothing but grief for anyone who touches it, but Deevy's moral lessons are hardly standard. Min is undone by her betrayal, not her unrelenting insistence that the immorality of enforced poverty entitles her to the found money. Michael's unquestioning devotion to the Catholic Church is as responsible for his lack of ambition as it is for his honesty, in which he wavers anyway, nor does it prevent him from striking Min, thus prompting her conspiracy. Min's love for her husband is only rekindled once she learns too late that he ultimately decided to keep the money. And the villagers' insistence on protecting Cooney, even when his wife would rather have him back in jail, nearly derails the romance between the play's two most likable characters, the modest and decent Moses Barron and Lizzie Brennan, the spunky lass determined to marry him despite their poverty and the opposition of his smothering, dimwitted mother, Daisy.
Under Bank's subtle, knowing direction, Benton shines, her intensely focused work making Min's bottomless disillusionment understandable rather than alienating. Aidan Redmond's saturnine Michael is a worthy match, vulnerable in his bewilderment at the turn his life has taken yet equipped with a submerged capacity for violence. Eli James and Wrenn Schmidt, as Moses and Lizzie, make a sympathetic and persuasive pair of would-be lovers, amusing in their differing exasperation with Fiana Toibin's cluelessly self-involved Daisy. Con Horgan is an appropriately weaselly Cooney, and Bairbre Dowling smartly minimizes the near saintliness of his long-suffering wife, Maggie. Paul Carlin is a quietly self-possessed Jim Slattery, a smooth local with the connections to get the Donovans to America, and Robertson Carricart creates a suitably paternalistic Father O'Brien.
The Mint's evocative design work continues, contributed here by Vicki R. Davis (set), Andrea Varga (costumes), and Jeff Nellis (lights), with Davis' semi-rejuvenated ruins an apt metaphor for this troubled marriage. One warning: This being rural Ireland, Deevy's language is considerably more idiomatic than in the urban "Wife," as dialect coach Amy Stoller explains in her insightful program note. Combined with the accents, it can occasionally strain intelligibility. This is one case where you might consider reading the play before seeing it, and the Mint helpfully offers a three-play Deevy collection containing "Temporal Powers" for sale at the theater and on its website.
Presented by and at Mint Theater Company, 311 W. 43rd St., 3rd floor, NYC. Aug. 29–Oct. 9. Tue.–Thu., 7 p.m.; Fri. and Sat., 8 p.m.; Sat. and Sun., 2 p.m. (Additional performances Mon., Sept. 12 and Oct. 10, 7 p.m.) (212) 315-0231 or www.minttheater.org. Casting by Stuart Howard, Amy Schechter, and Paul Hardt.