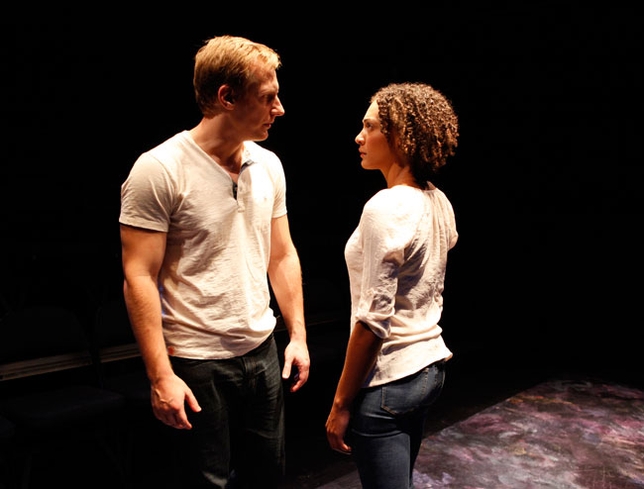 English playwright Philip Ridley certainly loves words. His pretentious two-hander "Tender Napalm," which looks at the teetering marital relationship of a young man and woman, is awash in a sea of overwrought verbiage more suited to the printed page than a theater. It's only thanks to the terrific performances of Blake Ellis and Amelia Workman, fortified by Paul Takacs' muscular staging and Yasmine Lee's kinetic movement, that the show doesn't drown in its increasingly baroque imagery.
Ridley's stylized conceit places two actors on a narrow strip of stage with the audience seated on both sides. Known only as Man and Woman, they pace, prowl, grapple, and repel as they take turns relating a fantastic, ever-morphing story to each other that has them marooned on a desert island and dealing with the local monkeys, sea monsters, a tsunami, mythical gods, superheroes, and space aliens. Violence toward each other and sexual explicitness permeate their narrative. Each begins its latest iteration by first asking: "Have you seen the view?" As they battle over who is the rightful ruler of the island, little clues about their personal history are dropped. It's not too long before he says, "I see a child," and she quickly replies, "No, don't!" It seems that they lost a young daughter, and her death has put their love in jeopardy.
This literary device isn't very dramatic, which is why we have all the physical business. It's easy to lose patience with the script, which at 100 minutes far outstays its welcome, but that's counterbalanced by watching how fully present Ellis and Workman are. Sporting pitch-perfect working-class British accents (kudos to dialect coach Patricia Fletcher), they create clear subtext for virtually every moment, engendering interest and engaging our sympathy. She is as beautiful as he is handsome, and they charge the show with a vibrant sexuality. He combines a swaggering macho energy with a boyish vulnerability; she is both childishly willful and a formidable woman bent on fierce vengeance.
Perhaps tellingly, Ridley drops his structure for a naturalistic climactic scene in which we see the couple's first meeting, as teenagers at a party. It's a good scene and well-played. Then suddenly she says the play's opening line, something he originally delivered. They continue with more familiar dialogue, though the speakers remain reversed and the subtext is altered. I'm afraid my instantaneous response was a slicing stab of fear. "Oh, no," I thought, "not again? But I've already seen the view!"
Presented by the Shop at 59E59 Theaters,59 E. 59th St., NYC. Aug. 29–Sept. 9. Tue.–Thu., 7:30 p.m.; Fri. and Sat., 8:30 p.m.; Sun., 3:30 p.m. (212) 279-4200 or www.ticketcentral.com.
Critic's Score: C+