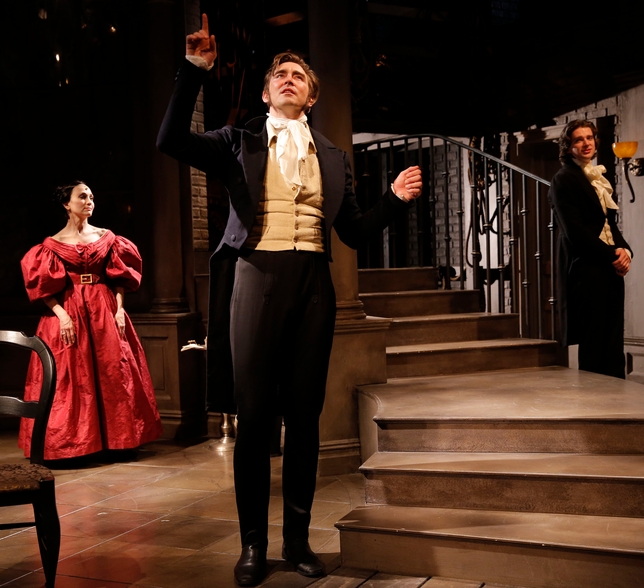 When I first caught Terrence McNally's "Golden Age," during the Kennedy Center's 2010 McNally festival, in Washington, D.C., it was tonally and thematically inconsistent but full of promise. The good news is that the promise has been fulfilled. This bittersweet comedy, set backstage in 1835 in Paris on the night of the premiere of Vincenzo Bellini's final opera, "I Puritani," is now a winning meditation on the joys and costs of making art.
McNally and director Walter Bobbie have backpedaled the show's overtly farcical elements and moderated some political themes while shaving a good 20 minutes. We are now squarely focused on the 33-year-old Bellini, dying of tuberculosis but still making grand artistic plans for the future, and his devouring need for artistic success and recognition. Though beloved by his company of singers—not to mention his prima diva and former lover, Maria Malibran, who was not offered "I Puritani" but has shown up backstage anyway—Bellini's drive for greatness has taken its personal toll. As Maria says to Francesco Florimo, Bellini's patron and current lover, "One thing never changes: Vincent always knows exactly where he is in his opera. Vesuvius could be erupting and he'll say, 'It's your cue, Maria.' " The insecure young man, hopelessly in love, is nevertheless often relegated to the sidelines, warning at one point, "You won't do better than me, Vincent."
We still watch as the Puritani Quartet—tenor Giovanni Battista Rubini, baritone Antonio Tamburini, bass Luigi Lablache, and soprano Grisi—scamper on and off stage while negotiating their personal lives and speculating on the imperishable fame they will attain for premiering the opera. And the legendary composer Gioacchino Rossini still pays a backstage visit to render his artistic verdict. But now, when Bellini ascends to the stage to accept one last ovation as his two great loves carefully shepherd him, McNally sounds the perfect resolving chord of triumph tinged with regret.
Lee Pace is an ideal Bellini, charismatic even in self-absorption and gifted with the requisite Byronic handsomeness. Pace excels at communicating Bellini's often internal emotions and uses an effortless period physicality to good effect. Bebe Neuwirth's Maria is full of grace, fire, and star quality. When the unsentimental diva calmly insists to Bellini and Florimo that "all love dies," Neuwirth gives the pronouncement an arrestingly sad implacability. Will Rogers' boyish Florimo bursts with a self-effacing devotion while exhibiting a core of steel that explains why he's still around.
Lorenzo Pisoni is stalwart and amusingly vain as ladies' man Tamburini; Eddie Kaye Thomas creates a charmingly calculating, slightly nerdy Rubini; Ethan Phillips gives the practical Lablache a cunning dryness; and Dierdre Friel is a composed Grisi, which only makes her displays of temperament even funnier. F. Murray Abraham, in the cameo role of Rossini, is a font of bemused experience, and Coco Monroe is a bright presence as a young page.
It's possible that "Golden Age" may not transcend its milieu to resonate strongly with general audiences, but its intelligence and heart should captivate anyone who has ever pursued an artistic dream.
Presented by Manhattan Theatre Club at New York City Center Stage I, 131 W. 55th St., NYC. Dec. 4–Jan. 13. (212) 581-1212 or www.nycitycenter.org. Casting by Nancy Piccione.
Critic's Score: A-