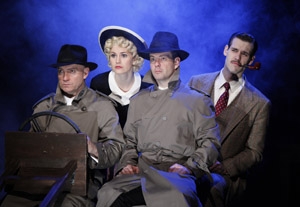 After two years and four theaters, the stage adaptation of "The 39 Steps" is still an irresistible crowd pleaser. From the American Airlines to the Cort to the Helen Hayes to its latest home, Off-Broadway at New World Stages, this four-actor, multiple-character, simple-set romp continues its winning combination of big yuks and low overhead. An additional secret to the show's longevity is its simultaneous appeal to movie-trivia fanatics and broader audiences.
Patrick Barlow's adaptation of John Buchan's suspense novel is full of insider pop-culture references, not only to the classic 1935 Alfred Hitchcock film version, but also to other works by the master of suspense and British cinema in general. Yet you don't need to be a Hitch maniac to enjoy yourself. Maria Aitken's immensely clever staging employs simple props like window frames, ladders, hats, and shadow puppets to create a mad spy thriller extending from the stage of the London Palladium to the wilds of Scotland. She even makes fun of her own bag of tricks. My only quarrel with the new theater is a sightline problem: A few brief upstage scenes are lost to those seated on the extreme right and left of the house.
The new cast is certainly up to the show's rigorous demands. John Behlmann makes a dapper and dashing leading man as Richard Hannay, the innocent Canadian thrown into a whirl of international intrigue. The remaining three are all playing their roles more broadly than the originals—which is an odd choice, as they are performing in a smaller house—but the production's winking nature can bear it. Kate MacCluggage lays it on pretty thick as the mysterious lady spy and a mousey Scottish housewife, but her British heroine is full of pluck and spark. The show stealers of any "39 Steps" company are Man #1 and Man #2, who embody all the other characters, from leering undergarment salesmen to senile politicians to villainous double agents. Jamie Jackson and Cameron Folmar handle their quick-change duties with dexterity. Jackson is particularly delightful as the molelike vaudeville attraction Mr. Memory, and Folmar is a nosy riot as a snoopy Scottish innkeeper.
If you haven't already caught the show, step lively. It will no doubt turn up on the rosters of many regional theaters, giving work to actors for years to come.
Presented by Bob Boyett, Harriet Newman Leve, Richard Winkler/Dan Frishwasser, Pamela Laudenslager/Douglas Denoff, Jane Dubin, Olympus Theatricals, Tim Levy/Jennifer Isaacson, Manocherian Productions, Stewart F. Lane/Bonnie Comely, Remmel T. Dickinson, True Love Productions, Kevin Lyle, John Retsios, Marek J. Cantor/Probo Productions, and Lary Brandt/Meredith Lucio, in association with Roundabout Theatre Company, Huntington Theatre Company, and Edward Snape for Fiery Angel Ltd., at New World Stages, 340 W. 59th St., NYC. Opened April 15 for an open run. Mon.–Fri., 8 p.m.; Sat., 2 and 8 p.m.; Sun., 3 and 7 p.m. (212) 239-6200, (800) 432-7250, or www.telecharge.com. Casting by Jay Binder/Jack Bowdan.