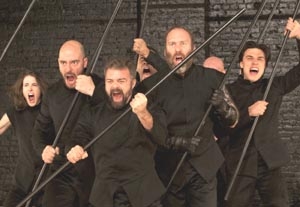 When did Classic Stage Company get into the bloated, mindboggling miniseries business? With "The Age of Iron," it's taken the Trojan War, blanded up the famous parts, glossed over the interesting bits, and dressed it all with a desperate comic energy that raises the question: Why? The whole thing feels like a hideous sweeps-week stunt, a repudiation of all things classic, not to mention all things stage. It's the sort of calamity that you'd expect to have a dozen writers and two dozen producers, but in this case just one man stands at the helm: adapter-director Brian Kulick.
To be fair to Kulick, he does draw on two sources—Thomas Heywood's "Iron Age" and Shakespeare's "Troilus and Cressida"—but to be fair to everyone else, I must yet again ask, why? In several pages of production notes, Kulick waxes on (and on) about how the plays unlock or enrich each other. But actually they don't. This stitched-together beast is inconstant in tone, theme, and point of view. When the text transitions from prose to poetry, the rhymes land like ham hands beating you about the head. I've seen Kulick direct gripping theatre before, though come to think of it all the productions I admired were collaborations with Michael Cumpsty. Maybe Kulick simply misses his muse here.
Rather than develop the classical figures, Kulick paints them in broad comic strokes. Again—though let's not dwell—why? Achilles (Dion Mucciacito) is a biker-gang thug, Ajax (Bill Christ) a Frankenstein monster, Thersites (Steven Rattazzi) a Jim Henson creature (I think Hoggle from "Labyrinth"). This weirdo mugging isn't funny—and then when Kulick tries to crank up the passions for lust and bloodshed, he has no forces to marshal.
The performances are mostly atrocious, though I've seen enough of these actors do good work before that it's tough to hold them responsible. Watching them, I was reminded more than once of William Finn's tongue-in-cheek "Falsettos" lyric: "Four men marching but never mincing/Four men marching are so convincing." Well, nothing's convincing here, least of all the marching. Neither Menelaus (Luis Moreno) nor Paris (Craig Baldwin) shows any sexual interest in Helen (Tina Benko), yet Kulick denies the play its actual homosexual content by casting an attractive woman (Xanthe Elbrick) as Achilles' beloved Patroclus. I'll just think the question and not write it down.
Thankfully, Mark Wendland's massive sandbox set, as boldly lit by Brian H. Scott, gives us something to look at. Their work isn't matched by costumer Oana Botez-Ban. Perhaps some point about all men being equal in war is meant by dressing the Greeks and Trojans identically all in black, but couldn't Botez-Ban have found Cressida (Dylan Moore) a flesh-colored thong to wear under her translucent flesh-colored negligee? Maybe details don't matter in war either.
Presented by and at Classic Stage Company, 136 E. 13th St., NYC. Nov. 22–Dec. 13. Tue.–Sat., 8 p.m.; Sat and Sun., 2 p.m. (No performance Wed., Nov. 25, and Thu., Nov. 26; additional performance Sun., Dec. 6, 7 p.m.) (212) 352-3101, (866) 811-4111, www.theatermania.com, or www.classicstage.org. Casting by Calleri Casting.