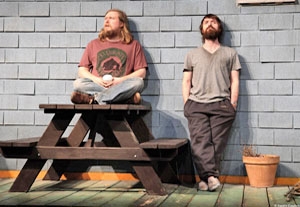 For an unfiltered slice of life, head to Rattlestick Playwrights Theater for Annie Baker's "The Aliens," a weird, almost elliptical comedy-drama on dropping out and growing up. As in her "Circle Mirror Transformation," presented earlier this season Off-Broadway, Baker reveals as much by indirection and what is unspoken. The characters communicate in fragmented sentences, pompous attempts at a novel, and quirky folk songs.
This piece is like a kinder, gentler "American Buffalo." Both works feature illegal acts, much profanity, and a triangular relationship among inarticulate males who haven't reached maturity. But instead of Mamet's petty thieves contemplating a rare-coin heist, Baker's boys are two slackers loitering behind a Vermont coffee shop and the teenaged counterman sent to shoo them off. Instead of chasing Jasper and KJ away, awkward Evan is attracted to their mystifying outsider status. Aside from Jasper's endless novel and KJ's babbling about mathematical theorems, the main occupation for both of these 30-ish goof-offs appears to be getting high and arguing about the multiple names for the long-disbanded rock group they formed. Evan is a withdrawn adolescent, obviously yearning for a circle of friends, even one that includes these two oddballs.
Director Sam Gold, who also staged "Circle Mirror Transformation," elicits performances that mine the depths of Baker's spare dialogue. We learn very little about Evan's life outside the coffee shop—it's all conveyed in a pair of one-sided cell-phone conversations—yet Dane DeHaan conveys 17 years of isolation in his insightful limning. From his stooped posture to his shy downward glances, DeHaan creates a full, rich rendering of a youngster perpetually on the outside yearning to be admitted to the cool kids' table. When he slowly accepts a cigarette from Jasper, his hesitancy and eagerness to take it are simultaneously hilarious and heartbreaking.
Erin Gann combines Jasper's narcissism with a soft center, demonstrating that the character's absurd literary pretensions and braggadocio conceal a generous spirit. Michael Chernus has the difficult task of making the lethargic KJ interesting, yet he manages to find the energetic spark in this overly mellow guy. At one point, he's required to say the word "ladder" over 100 times—I counted them in the script—and he finds the sorrow and frustration behind the obsession, turning a meaningless string of words into a painful howl.
Andrew Lieberman provided the ultra-detailed set, and Chernus, Gann, and Patch Darragh wrote the funny original songs for Jasper and KJ.

Presented by and at Rattlestick Playwrights Theater, 227 Waverly Place, NYC. April 22–May 29. Mon., Wed.–Sat., 8 p.m.; Sun., 3 p.m. (212) 868-4444 or www.smarttix.com. Casting by Calleri Casting.