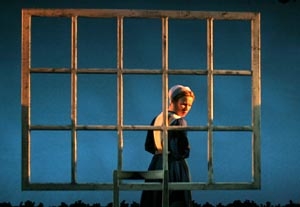 If a crazed gunman walked into a schoolhouse in your community, dismissed the boys, shot all the little girls to death, and then killed himself, would you forgive him and share the money collected for the victims' families with his widow and two children? This horrifying moral dilemma lies at the heart of
The Amish Project
, an enthralling one-woman show inspired by the real-life Amish school shooting that occurred in Nickel Mines, Pa., on Oct. 2, 2006.
Insightfully written and performed by Jessica Dickey, and crisply directed by Sarah Cameron Sunde, the fictionalized play grippingly examines the tragedy from the divergent perspectives of six dissimilar characters. We hear from the gunman himself, who'd been the local milkman; his "white trash" wife, who is obsessed with the false claims made by moisturizing lotions; a pregnant 16-year-old Latino girl who works at the grocery store; and two of the Amish girls (ages 6 and 14) who died in the shooting. We also meet a professor of Amish culture, who tries to explain the sect's extraordinary capacity for forgiveness, and a struggling farmer's wife, who resents the Amish for their relative wealth and is angered by their compassion toward the shooter. "What's that say to all the other sickos?" she argues.
A dexterous actor, Dickey persuasively portrays the multiple characters with no help from props or accessories. She is costumed throughout as a traditional Old Order Amish girl—in a plain blue dress, white apron and bonnet, black stockings and shoes—and uses only savvy changes in body movement, facial tension, and speech to bring forth different personalities. She sometimes switches rapidly from one to another yet does so with such clarity and truthfulness that the 70-minute play feels much like a tightly edited documentary film. It brings you face to face with pertinent perplexities in a way that's as real as it is transporting.
Presented by and at Rattlestick Playwrights Theater, 224 Waverly Place, NYC. June 10
–
July 12. Mon
.,
Wed
.–
Sat
.,
8 p.m
.;
Sun
.,
3 p.m
. (
No performance Thu
.,
June 11
.) (
212
)
868-4444 or www.smarttix.com
.