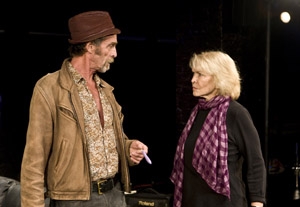 Early in David Bar Katz's "The Atmosphere of Memory," which features a group of actors rehearsing an autobiographical play, there is a scene in which a cast member complains to the playwright that the script they have all been working on is shallow and confused, a self-indulgent muddle redeemed only by the acting and the direction. That character could have been writing my review of "Atmosphere" itself, except the liming and staging can't rescue this disaster. Katz, a talented author whose "The History of Invulnerability" has deservedly won several awards, seriously fumbles with this clashing amalgam of parody, drama, and insider theater jokes. It's as if Katz wanted to show off his influences and couldn't make up his mind between Woody Allen, Eugene O'Neill, Tennessee Williams, and comic-book creator Stan Lee (the protagonist playwright, presumably a stand-in for Katz, has a serious love for action figures and superheroes.) So he threw them all into the blender and produced a gloppy mess.
Author Jon Stone has cast his mother, an actor, to play a version of herself in a bizarre autobiographical pastiche about his horrible childhood. It features satires of everything from sci-fi to Strindberg to Greek tragedy to Gilbert and Sullivan and is pretentiously titled "Blow Out Your Candles, Laura." When Jon's estranged father—presumably an actor as well, although this is never clarified—shows up claiming that the play is a total fiction and, worse, artistically dishonest, Jon must re-examine his creative process and his memories.
If Katz had gone all the way with a comic approach, he might have had a salvageable play, but he asks us to care about his cartoonish creations. Yes, in real life there is a mix of guffaws and anguish, but neither is earned here. The humor is forced and heavy-handed, often relying on sexual shock value, while the drama is clichéd and derivative. Pam MacKinnon directs competently and makes inventive, efficient use of the cramped Bank Street Theater space, aided by David Gallo's simple set. Perhaps that's the best that can be expected given the script she was handed.
Ellen Burstyn and John Glover bring their considerable experience to bear in a futile attempt to transform the caricatured parents into credible figures. Neither succeeds, as both characters are so repulsive and two-dimensional—alcoholic, drug-addicted, narcissistic—that not even this Tony-winning pair can vivify them. Although both actors have monologues in which they break through the exaggerated comic shtick and express actual emotion and loss, these are fleeting moments of sanity in a madhouse of mayhem. Max Casella is unable to transcend Jon's whiny self-pity, though he does have a brief breakthrough when imparting Jon's desperate longing for a functional family while tearfully singing along with a rock tune on a cassette recorder.
Only Melissa Ross, as Jon's depressed sister Esther, creates a completely believable individual whose suffering is not just fodder for punch lines. While everyone around her is mugging up a storm, Ross focuses on Esther's reactions and objectives. During a screaming match among the rest of the family, I couldn't take my eyes off her. She was that concentrated and centered. Too bad the rest of the "Atmosphere" was not.

Presented by Labyrinth Theater Company at the Bank Street Theater, 155 Bank St., NYC. Oct. 30–Nov. 20. Tue.–Fri., 8 p.m.; Sat., 2 and 8 p.m.; Sun., 3 p.m. (212) 513-1080 or www.labtheater.org. Additional casting by Judy Bowman.