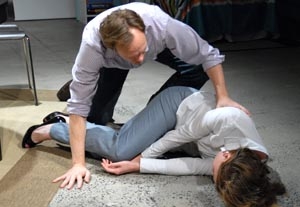 Thomas Bradshaw has had the shocking insight that selfish people behave badly, and he spends a long 70 minutes sharing it with us in "The Bereaved." This self-styled provocateur playwright serves a remarkably mild dish here.
The scattershot plot, which is decidedly not the point, takes place today in New York City and has to do with a dying mother's determination to see her surviving family financially secure after her death. What Bradshaw does is choose some high-concept, highly improbable actions that allow him to raise such hot-button issues as sexuality, race, violence, drugs, and crime, then line them up like dominoes and shove. "The Bereaved" plays as if it wants to be a harsh Jules Feifferesque cartoon, but it never touches the stylization necessary to achieve that kind of intensity.
Neither director May Adrales nor the talented company—Andrew Garman, McKenna Kerrigan, Vincent Madero, KK Moggie, Brian D. Coats, Jenny Seastone Stern, Christopher T. Van Dijk, Brian J. Maxsween—has been helped by following Bradshaw's stage directions: "The characters should be played with the utmost honesty and sincerity. The irony in the play should be underplayed…at all times…. The play should be directed in a straightforward and realistic manner." As his characters barely approach two dimensions, they can't sustain naturalistic acting. And the naturalism neutralizes any savagery that might be found in Bradshaw's surprisingly ordinary observations.
Lee Savage's modest Manhattan apartment set proves perfectly functional in the Wild Project's attractive, comfortable space. Whitney Locher's contemporary costumes are well-observed, and Jason Jeunnette lights it all resourcefully. Qui Nguyen provides the convincing fight choreography. Somewhat less convincing is the simulated sex.
To pull this kind of thing off successfully, you need to work in hot primary acrylics. Bradshaw has settled for pastel Crayolas.
Presented by Partial Comfort Productions at the Wild Project, 195 E. Third St
.,
NYC. Sept. 9
–
26. Wed
.–
Sat
.,
8 p.m
. (
212
)
352-3101
, (
866
)
811-4111, www.thewildproject.com, or www.partialcomfortproductions.org. Casting by Judy Bowman Casting
.