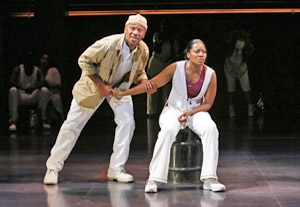 The Tarell Alvin McCraney bandwagon is rolling. Embraced by the cream of the nonprofit theatrical establishment and winner of the first New York Times Outstanding Playwright Award, the talented 29-year-old is placed in the esteemed pantheon of O'Neill, Miller, Shepard, and Parks by Public Theater artistic director Oskar Eustis in his effusive program notes. It's a heavy burden to put on any young author, and McCraney can't shoulder it in his sprawling new trilogy, "The Brother/Sister Plays." While there are definitely elements to admire, particularly in "Marcus; or the Secret of Sweet," the final play, there's also a good deal of overblown mythologizing combined with a paucity of convincing character writing. At his best, McCraney has a decidedly original way with language; at his worst, he relies on sociological stereotypes for easy laughs. Is he deserving of careful nurturing and support? You bet. Is he the second coming? Not yet.
The three plays—"In the Red and Brown Water," "The Brothers Size," and "Marcus"—follow the inhabitants of the projects in San Pere, La., deep in the bayou, telling interconnected stories across a generation. "Water," under Tina Landau's direction, strains mightily for mythic dimension, but its tale of Oya, a talented athlete who falls for the wrong man and ultimately sees her opportunities circumscribed, is thin and predictable, unable to support all the metaphysical froufrou. The second and third plays are directed by Robert O'Hara in a more straightforward style. "The Brothers Size" focuses tightly on three characters: the two titular siblings, Ogun and Oshoosi Size, and Elegba, a young bisexual tempter and former prison mate of Oshoosi who leads him to his ruin. While the fraternal relationship is well-delineated and ultimately moving, the Elegba-Oshoosi bond gets bogged down in dreams and murky subtext.
"Marcus" tells the story of Elegba's son. "Sweet" is the community's word for "gay," and everyone seems to know about 16-year-old Marcus except his girlfriend, Osha. His mother doesn't approve, his friends tease him, and he aches to know about his dead father, of whom his mother won't say a word. Then the handsome 22-year-old Shua arrives from the Bronx. On the down low, he takes up with both Osha and Marcus, with disastrous results. While the story is not new, it's told with such specificity and poetry that it crystallizes in a way the other two plays don't, despite climaxing unfortunately in an unearned coincidence and trite fisticuffs.
The clear standout in a fine company of actors is André Holland, magnetic in last season's "Joe Turner's Come and Gone" and equally impressive here, displaying real range as both an impish and insinuating Elegba and his confused and vulnerable son. Kimberly Hébert Gregory does well by the cranky Aunt Elegua, who tells the truth whether it's wanted or not, aging convincingly. Nikiya Mathis makes the needy Shun, Oya's rival for the affections of her wrong man, Shango, memorably obnoxious yet curiously sympathetic. Sterling K. Brown as Shango and Shua nicely differentiates two very different alpha males.
James Schuette's evocative minimalist set is beautifully lit by Peter Kaczarowski (an opening water effect is simple and stunning). Karen Perry's complementing costumes progress from the stylization of muted whites, tans, and khakis through blues and grays, finally exploding in a riot of welcome color.
McCraney needs to beware affectations. One in particular is having his stage directions spoken, which he also used in last season's "Wig Out!," where it was largely handled by a chorus. Here the characters do it individually. McCraney employs the device mostly for quick laughs or to make subtext plain; only rarely does it reveal character or forward dramatic action. It's really nothing more than an updating of the aside, and it's just as dramaturgically ham-fisted and emotionally distancing as that hoary device. Clearly McCraney is devoted to it, but he needs to make it work consistently instead of occasionally.
Presented by the Public Theater in association with McCarter Theatre at the Public Theater, 425 Lafayette St., NYC. Nov. 17–Dec. 20. Schedule varies. (212) 967-7555 or www.publictheater.org. Casting by Laura Stanczyk, Jordan Thaler, and Heidi Griffiths.