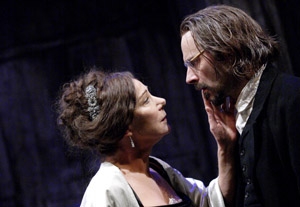 The National Theatre of Great Britain concludes its second season of live broadcasts to cinemas worldwide with a fresh and sensitive staging of Anton Chekhov's "The Cherry Orchard." Though the bittersweet tale of a Russian family dealing with—or, more accurately, not dealing with—the imminent sale of its beloved estate and the titular orchard is one of the most popular classics of the modern era, director Howard Davies lets us see it with new eyes.
Too many stagers take the characters' cries of boredom to heart and put on a dull, slow production. Davies wisely avoids that trap. This crew is a lively, funny bunch, desperate for a good time: The party scene in Act 3 is full of wild abandon and drunken revelry. The family and its guests want to cram in as much laughter, dancing, and vodka as possible before the ax falls and their world comes crashing down.
Chief among this group of melancholy merrymakers is Zoe Wanamaker's volatile Madame Ranyevskaya. Without missing a beat, Wanamaker skillfully limns the extremes of this combination of lustful adult and capricious child who flits from one emotion to another. Wanamaker is particularly brilliant transitioning from Ranyevskaya's sorrowful monologue on the downward spiral her life has taken since her son and husband died to her sudden excitement at planning a ball she can't afford, dancing around like Isadora Duncan. James Laurenson makes Ranyevskaya's feckless brother Gaev an ancient baby, full of play and unable to cope with the crisis. Claudie Blakley illuminates the struggles of Varya, the elder daughter who must assume the responsibilities her elders refuse to accept, while Charity Wakefield charts the yearning of Anya, her younger sister, to escape from the family's privileged background.
Conleth Hill, seen on Broadway in comic Irish turns in "Stones in His Pockets" and "The Seafarer," proves his dramatic mettle as the upstart merchant Lopakhin. Hill employs some of the Gaelic charm he used in those two roles to convey this complex former peasant's need to be accepted by Ranyevskaya and her set. Pip Carter, Gerald Kyd, and Emily Taaffe form an amusing tangle as servants embroiled in a romantic triangle. Kenneth Cranham is exceptionally moving as the old butler Firs. Tim McMullan's jovial neighbor and Sarah Woodward's enigmatic governess add to the vital depiction of this disintegrating community.
The one wrong note in this seamless ensemble is sounded by Mark Bonnar's Trofimov. Bonnar, who plays the role with a heavy Scottish accent, is too confident and virile for the insecure eternal student. The actor seems to be playing a symbol of Russia's socialist future rather than a down-at-heels yet good-at-heart human being.
Designer Bunny Christie creates a rundown wooden environment resembling a giant ancient dollhouse, an appropriate setting for a group of lost children being thrust out of their childhood playground into a harsh, changing world.
During the film presentation, previews of NT Live's upcoming third season were shown. Other companies are getting into the act, with the Globe Theatre launching a series of broadcasts. Now if only some American regional theaters would begin a similar program, we'd have a truly national theater in this country. 
Presented by National Theatre Live on movie screens worldwide. For future screenings, visit www.ntlive.com.