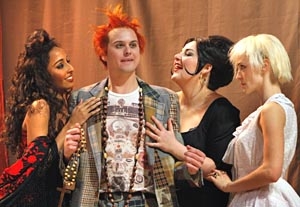 As more than one distinguished actor is quoted as saying on his deathbed, "Dying is easy. Comedy is hard." And that theatrical saw keeps buzzing in my mind as I ponder the Acting Company's rather nonseductive production of Shakespeare's farce of identical twins and mistaken identities, "The Comedy of Errors." Almost any production from this acclaimed company, which has been nurturing new generations of stage talent since 1972 with tours of classic plays across the continent, is bound to have an aura of youthful dedication and exuberance. And this is no exception. Still, comedy is damned hard. And the show demonstrates that as well. The actors work their butts off, but the comedy is in short supply.
Director Ian Belknap has packed the proceedings with pratfalls aplenty and lots of other slapstick stuff. The stumbles, the slaps, and the crotch slams are often augmented with synchronized sound effects. The two twin servants, both named Dromio, wear Chaplinesque outfits: bowler hats and oversized pants. Their twin masters, Antipholus of Syracuse and Antipholus of Ephesus, are dapper in blazers and red neckerchiefs, which come in handy for beating their servants in moments of frustrated misunderstanding. And the businesslike staging, with a somewhat trimmed script, brings the play—Shakespeare's shortest—to its conclusion in just about 90 minutes without intermission.
But try as the actors may, little of the shtick seems organic, and things never reach the zenith of riotous frenzy the plot calls for. The streamlined set, consisting mainly of a tall rolling platform and drapes that are shifted to denote scene changes, has a bright look. But there's little sense of place or environment. All the action seems to take place in a void, further deflating the fun factor.
That's not to say the show doesn't have its moments. As Dromio from Syracuse, John Skelley nails a number of Shakespeare's jokes, letting them build on character rather than exaggerated gestures, and several of the actors bring admirable clarity to the language, especially Jonathan C. Kaplan as Antipholus of Syracuse and Jason McDowell-Green as Antipholus of Ephesus.
It probably should be noted that the production has been touring since January, playing lots of one-night stands in rep with "Romeo and Juliet." It's possible that the rigors of traveling have drained spontaneity from the work. But as another adage sort of goes, presumably no one forced these kids into show business. 
Presented by the Acting Company, in association with the Guthrie Theater, at Pace University's Michael Schimmel Center for the Arts, 3 Spruce St., NYC. April 9–17, Tue.–Sat., 7:30 p.m. Sat. and Sun., 2 p.m. (Additional performance Sun., April 10, 6 p.m.) (212) 352-3101, (866) 811-4111, www.theatermania.com, or www.theactingcompany.org. Casting by McCorkle Casting.