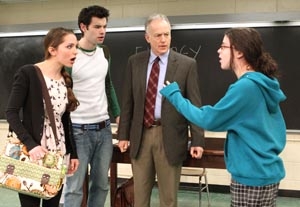 Author David West Read comes with impressive developmental credentials, from stints at Juilliard and the O'Neill Playwrights Conference to an MFA from the dramatic writing program at NYU's Tisch School of the Arts. In a program note, he thanks his "teacher and friend Daniel Goldfarb, who converted him into a playwright."
But based on the evidence of Roundabout Theatre Company's production of "The Dream of the Burning Boy," part of Roundabout Underground, the company's admirable program dedicated to presenting the work of young writers, Read, though not without talent, still has a ways to go before he gets this playwriting thing down. Consisting of slim, movielike scenes and built on a situation so unique that it squelches any wider resonance, "Boy" never gathers enough steam to generate appreciable dramatic force.
The play begins with a very brief conference between high school English teacher Larry Morrow and one of his students, Dane, over a grade Dane considers unsatisfactory. Dane quickly leaves, then drops dead in the hallway of a brain aneurysm. "Boy" examines the effect of his death on his best friend, Kyle; his girlfriend, Chelsea; his sister, Rachel; and, of course, Morrow. Hovering about, trying to help everyone, is the annoyingly naive Steve, the school's guidance counselor. Dane's mother, Andrea, makes a one-scene appearance.
Almost precisely halfway through, Read drops a bombshell (it drew gasps) that must be revealed in order to talk intelligently about the play, so anyone who doesn't want to know about it should skip to the next paragraph now. Morrow, it turns out, is Dane's father. He got Andrea pregnant but declined to marry her. The man she did marry gave cover to Dane's parentage. Together, they subsequently sired Rachel. The unattached Morrow has lived in the same suburban town as Andrea ever since, but he never even saw Dane until Andrea sent him to the public high school, knowing full well Dane would end up in Morrow's class. Neither Dane nor Rachel knows the truth. The ramifications of this unique situation are never satisfactorily explored, allowing us to view it as a curiosity in which we invest no particular emotion.
Under Evan Cabnet's straightforward direction, the acting is better than the writing, but only one performer is able to get beyond type. As Rachel, Alexandra Socha, whom I've previously admired in Roundabout's concert presentation of "A Little Night Music" and in Yale Rep's musical version of "We Have Always Lived in the Castle," is a wonder. Highly intelligent and intimidatingly articulate, Rachel hides her emotions behind a spiky façade of rationality and her attractiveness under shlumpy clothes. She's Read's most successful creation, and Socha invests her with a restless and unpredictable humanity. Kristie Dale Sanders does manage to give Andrea an effectively bruised weariness, but the character's single scene, an encounter with Morrow engineered by the bumbling Steve, is predictable and unilluminating. Read is fortunate to have the redoubtable Reed Birney as Morrow, but even Birney's consummate skill and honesty can't penetrate such a hermetically sealed character, with Morrow's climactic emotional breakdown coming across as forced and trite.
That sliver of an opening scene leaves us waiting for Dane's inevitable return, which finally comes in the penultimate scene as a recurring dream of Morrow's that generates the play's title, a reference to a Freudian case study. The dream both repeats and slightly expands the opening scene, but it's nothing more than a shopworn iteration of "live every moment as if it were your last." Any playwright who can create a Rachel deserves support and encouragement, but Roundabout has erred in serving Read's play before its time.
Presented by Roundabout Theatre Company as part of Roundabout Underground at the Black Box Theatre, 111 W. 46th St., NYC. March 23–May 15. Tue.–Fri., 8 p.m.; Sat., 2:30 and 8 p.m.; Sun., 2:30 and 7 p.m. (212) 719-1300 or www.roundabouttheatre.org. Casting by Carrie Gardner.