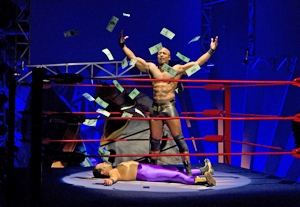 Get ready to rumble! Kristoffer Diaz's "The Elaborate Entrance of Chad Deity" will body-slam you to the canvas with a one-two punch of political satire and theatrical showmanship. It's no wonder this high-impact gut punch of a play was shortlisted for the Pulitzer. It's got everything—politics, culture clashes, muscles, explosions, and hard-hitting critiques of the state of America and the world today.
Using the comic-book world of professional wrestling as a weirdly distorting lens, Diaz offers a darkly comic view of American parochialism, and it ain't pretty. The truly skilled athletes are made to play loathsome villains because they happen to be of either Hispanic or South Asian origin, while the dazzling, musclebound headliner, Chad Deity, is a charismatic klutz. The African-American Deity (real name: Darnell) soaks up the riches—he literally throws fistfuls of dollars around—while his opponents do the hard work of taking falls and punches and reap much smaller salaries. Politics are thrown into the mix when ringside bad guys are cast based on cultural stereotypes.
Midlevel wrestler Macedonia "Mace" Guerra (the compelling Desmin Borges) is stuck enacting the perpetual loser to Deity (the energetic Terence Archie) in their pre-staged matches. When Mace encounters Vigneshwar Paduar, aka V.P., an East Indian kid with a firecracker personality, he sees his ticket to glory. The two team up as caricatures representing the twin menaces of illegal immigration and radical Islamic terrorism to topple the all-American and not-so-subtly-named Deity.
Mace is the narrator, and Borges stunningly delivers his long, often hilarious monologues at submachine-gun speed. Yet the actor doesn't stint on Mace's inner turmoil, carefully delineating his love-hate affair with his profession. It's a breakout performance and needs to be seen. Archie offers a dead-on portrait of the narcissistic Deity, whose ego is even bigger than his biceps. He manages to be dead serious when Deity brags about the size of the crispers in his refrigerator, which is a feat in itself. Michael T. Weiss is a ball of Satanic fire as the amoral CEO of the wrestling federation. Usman Ally captures V.P.'s brash swagger and his urgent need to be taken seriously. Christian Litke rounds out this exemplary ensemble with full-bodied work as three quickly dispatched wrestlers.
Edward Torres, who staged the play's world premiere at Chicago's Victory Gardens Theatre, borrows liberally from the pro-wrestling milieu the play lampoons for a dynamite production. Jesse Klug's rock-concert lighting, Peter Nigrini's sharp projections, and Brian Sidney Bembridge's humorous set combine to create a nightmarish arena where the truth is drowned out by razzle-dazzle. But don't let the fireworks fool you; "Chad Deity" is no flashy lightweight. It's the real deal.
Presented by and at Second Stage Theatre, 305 W. 43rd St., NYC. May 20–June 20. Tue., 7 p.m.; Wed.–Sat., 8 p.m.; Wed. and Sat., 2 p.m.; Sun., 3 p.m. (212) 246-4422, (800) 766-6048, or www.2st.com. Casting by MelCap Casting.