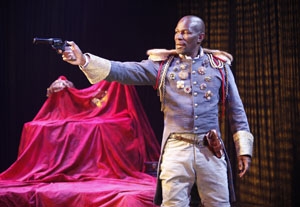 This is Back Stage's review of the show's original run at the Irish Repertory Theatre this past fall.
Other than the fact that its author was of Irish descent, "The Emperor Jones" is an unexpected choice for the Irish Repertory Theatre. But this weird and powerful one-act from Eugene O'Neill is given a startlingly fresh production by director Ciarán O'Reilly, with a titanic performance from John Douglas Thompson. Written in 1920, the 75-minute play is often taught in college but seldom performed. That's mainly because of the script's expressionistic demands—which went out of fashion with the advent of kitchen-sink realism—and the unflattering portrayal of the title character.
Brutus Jones is an egotistical African-American crook who has escaped from a Southern chain gang and risen to power on a Caribbean island. He speaks in a stereotypical dialect, often uses the N word, and boldly embezzles from the tiny nation's treasury. When the islanders revolt against him, he attempts to escape through the jungle to a waiting freighter, but he is stopped by mystical forces, conjured up either by the local witch doctor or his own psyche. Some might find the depiction of Jones and the magic-believing natives offensive, but the play is ultimately a study of corruption rather than race, and Jones can be viewed as a tragic antihero brought down by his guilt and arrogance.
Thompson, who received Obie and Lortel awards for last season's "Othello," is a revelation as Jones. He's more than a braggart and thief. He radiates confidence and demands fear and respect from his underlings. Even the white trader Smithers (an appropriately craven Rick Foucheux) cowers in his presence. But Jones' pride is soon stripped away with his fancy uniform as the jungle spirits torment him. Thompson carefully documents Jones' descent into desperation until there is nothing left but a shivering, crying child. The character reaches a frightening place, and this actor is unafraid to go there.
O'Neill calls for a grand palace, huge crocodiles, an immense forest, a slave auction, and a chain gang. A tall order for the intimate Irish Rep. O'Reilly solves the staging problem by employing the clever masks and puppets of Bob Flanagan. Aided by Brian Nason's tropical lighting, the postage stamp–sized stage becomes a nightmare world of ghosts and monsters. Choreographer Barry McNabb creates a stunningly hypnotic voodoo dance, performed with abandon by Sinclair Mitchell as the witch doctor. Ryan Rumery and Christian Frederickson's original music and sound design contribute to the frightening atmosphere with ever-accelerating tom-toms and ghostly noises. Watching this production is like seeing a really good horror movie. But unlike the cinematic thrills those spectacles provide, the fear instilled by "The Emperor Jones" comes from the scariest place of all—the human mind.

Presented by the Irish Repertory Theatre and Darren Lee Cole Theatricals at the SoHo Playhouse, 15 Vandam St., NYC. Dec. 22–Jan. 31. Tue.–Sat., 8 p.m.; Wed., Sat., and Sun., 3 p.m. (No performance Thu., Dec. 24, and Fri., Dec. 25; additional performance Sun., Dec. 27, 7 p.m.) (212) 691-1555 or www.sohoplayhouse.com.