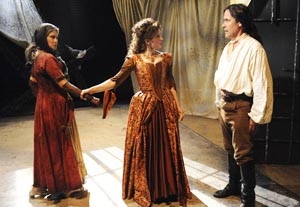 "The great chaos that is this continent" is how one character describes the confusing events of
The Europeans
, Howard Barker's 1990 historical drama receiving its U.S. premiere as part of the Potomac Theatre Project's program at Atlantic Stage 2 (it runs in repertory with Neal Bell's adaptation of
Thérèse Raquin
). "Chaos" is putting it mildly.
Barker documents the attempts by citizens, from royalty to peasants, in 17th-century Vienna to piece their lives together and forge a new identity after Turkish Muslim invaders have been expelled by the heroic Gen. Starhemberg. A program note explains that the playwright advocates a "Theatre of Catastrophe" that forgoes conventional realism to examine the irrationality of human behavior. He "hopes to invent a theatre for the 21st century that would speak most immediately to the culture, rather than educate or entertain it." Well, he succeeds in the latter two objectives:
The Europeans
is too hectic to be educational and too pretentious to be entertaining.
The characters come across as symbols rather than flesh-and-blood people. Each has suffered at the hands of the oppressive Turks and cannot cope with the relative freedom offered by the conquering Austrian Empire. But because we don't get to know them as individuals, their physical and mental pain has no resonance. We don't identify with them, and their multiple miseries soon become tedious. A woman is raped and disfigured by a Turkish regiment and spends the play raging about her fate. A faithless priest murders his mother and justifies it as a means of finding his religion. A captured general is decapitated offstage, and picnickers retrieve the head and gleefully play with it. Emperor Leopold and his caustic wife trade sharp witticisms and insults. A group of academics debates which direction new European art should take. It's all very eloquent—and dry as dust.
Director Richard Romagnoli admirably keeps the action moving at a worthy clip, but he and his cast fail to give these abstractions posing as lovers, mothers, kings, and captains three dimensions. Aidan Sullivan displays a breathtaking rage as the wounded woman, but she has nowhere to go after her first scene. Only at the play's end, when she must make a sacrifice for the good of her country, does Barker give her a different color to add to her palette. Brent Langdon and Antoinette LaVecchia, as the battling royal couple, lob verbal hand grenades at each other like expert tennis players, but this grows tiresome after the first set.
Mark Evancho's clever projections add variety to his unit set, and Jule Emerson designed the accurate period costumes.
Presented by Potomac Theatre Projectat Atlantic Stage 2, 330 W. 16th St
.,
NYC
.
July 7
–
26. Schedule varies
.
(
212
)
279-4200 or www.ticketcentral.com
.