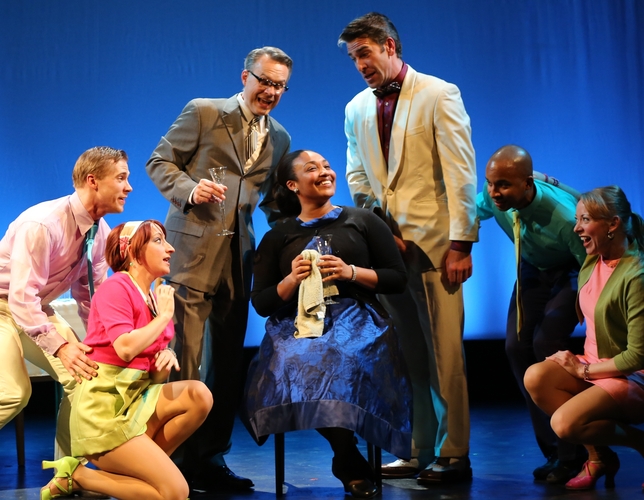 It's hard to fathom what adapter-director Ben West is up to in this drastically cut, heavily revised pint-size production of Allan Sherman and Albert Hague's "The Fig Leaves Are Falling," a 1969 Broadway musical satirizing free love that flopped out in just four performances. A program note declares that West's revisal "does not seek to dismiss, undermine, or 'fix' the original, but rather simply to entertain on its own terms." It would seem to me that if West achieved his goal, he would by definition have "fixed" the show. Not surprisingly, he hasn't.
This is the fourth time I have watched West slice the book of a musical to the bone while still presenting a standard-length score. "The Fig Leaves Are Falling" now runs a mere 70 minutes, which is simply not enough time to establish characters and invest our emotions in them. Songs rear their heads out of nowhere and, shorn of dramatic context, shrivel and die. It's a dispiriting sight.
The story as West has reconceived it concerns middle-aged, conventional Harry Stone, the senior vice president of a Manhattan-based greeting-card company. Harry is celebrating 20 years of monogamy with his wife, Lillian, but because she'd rather clean up after the anniversary party rather than make love, he instantly becomes vulnerable to the advances of his pretty 20-something secretary, Jenny. She's a Sarah Lawrence philosophy grad who, after complaining bitterly about all the married middle-aged execs who maul her, falls for Harry because he doesn't and so, naturally, proposes an affair. Harry succumbs, eventually leaving Lillian for Jenny. Lillian then entertains the idea of a fling with Harry's best friend, Charlie, who is the host of a TV musical variety show that serves as a metatheatrical frame for the evening (we begin with Harry on the show promising to make up his mind between Lillian and Jenny right there on TV). How will it all end? Just as you thought it would.
That frame is meant to allow such devices as characters addressing the audience and comment songs, but because it's as phony as can be (Jerry Springer was still a long way off in 1969), it only serves to flatten whatever oomph the material might have by presenting it in the generic, peppy, artificially bright manner of such programs. The paucity of book material also places far too much emphasis on Hague and Sherman's songs, which can't stand the scrutiny. Hague's music traffics in Broadway clichés, while Sherman, a skillful song parodist, doesn't know how to write lyrics that create character or further plot.
The perfectly professional eight-person cast does its best to enliven the stock writing. Natalia Venetia Belcon is a poised Lillian, but nothing she does explains why the great Dorothy Loudon was nominated for a Tony Award for it. Jonathan Rayson is more believable as the buttoned-up Harry, Matt Walton is a suitably smarmy Charlie, and Morgan Weed looks smashing and dances well as Jenny. Karen Hyland, Nathan Keen, Antuan Raimone, and Morgan Rose energetically serve as a chorus.
Opening on Broadway in the era of "Hair," "The Fig Leaves Are Falling" was instantly tired and dated. Forty-four years later, nothing's changed about that.
Presented by UnsungMusicalsCo. at the Connelly Theatre, 220 E. Fourth St., NYC. Jan. 13–26. (212) 868-4444 or www.smarttix.com. Casting by Geoff Josselson.
Critic's Score: D