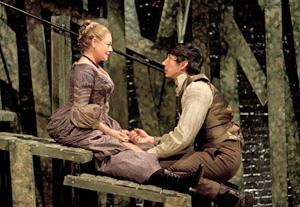 "Such unpleasantness I've had to put up with for this comedy," moans Dianne Wiest toward the end of Classic Stage Company's uneven production of "The Forest," Alexander Ostrovsky's rarely performed 1870 work, and I can sympathize. In Kathleen Tolan's new adaptation, with direction by CSC artistic director Brian Kulick, there are brief moments of enjoyable theatricality and insightful observation on the stultifying class system of 19th-century provincial Russia, but they are tiny islands in a sea of talk and melodrama. The production's final 20 minutes, in which various plot threads are neatly tied together and the ensemble gives just the right amount of zing to the characters' eccentricities, are neatly staged and produce some honest, earned laughter. But the audience has much to endure in the two preceding hours.
Wiest plays Raisa, a wealthy landowner attempting to manage her late husband's estate and the romantic futures of Aksyusha, her niece, and Bulanov, a young man from the lower classes whom the older woman has informally adopted. Raisa plans to marry the two off, but Aksyusha has eyes for Pyotr, the son of a crass merchant, and Bulanov is secretly attracted to his benefactress. Further complications ensue with the arrival of Gennady, Raisa's long-lost nephew, who has renounced the family name and become—horrors!—an actor. The main thrust of the action comes when Gennady pretends to be a prosperous businessman while his fellow thespian Arkady poses as his valet. Ostrovsky uses the comic ploy to expose the hypocrisy and narrow-mindedness of the Russian aristocracy, but the predictable results are creaky with antiquity. Tolan's script goes far to modernize the dialogue without making it seem anachronistic, but Kulick's direction pushes for laughs too hard and too often. He's also hampered by a huge set of extremely steep stairs, provided by set designer Santo Loquasto. I worried that the actors might trip as they charged down them. The unit is also moved around for various scenes, often blocking the view for audience members on the far left side of the three-quarter space.
Wiest is encumbered by the broad staging, such as when she awkwardly sprawls on a table, something the proper Raisa would not be likely to do, not even when she's alone with her ladies' maid. But there are flashes of this actor's sensitivity, as when Raisa shyly confesses that her feelings for Bulanov are more than motherly. John Douglas Thompson cuts an impressive figure as the blustering Gennady and soars triumphantly in those winning final moments, but his character keeps hitting the same "grand actor" notes, and it gets monotonous. Lisa Joyce's Aksyusha conveys this cunning girl's intelligence, and Adam Driver makes Bulanov a wounded little boy underneath a smug exterior. Quincy Dunn-Baker is a vigorous Pyotr, and Sam Tsoutsouvas is properly uncouth as his father.
The most pleasure is given by veteran character actors John Christopher Jones and George Morfogen, as cranky old men at different ends of the social spectrum. Jones is the sarcastic servant Karp, and Morfogen plays the cynical neighbor Bodaev. Each nearly steals the show with his understated, dryly delivered reactions to the buffoonery surrounding him. If only the whole production had such subtlety.


Presented by and at Classic Stage Company, 136 E. 13th St., NYC. May 6–30. Tue.–Sat., 8 p.m.; Sat. and Sun., 2 p.m. (212) 352-3101, (866) 811-4111, www.theatermania.com, or www.classicstage.org. Casting by Calleri Casting.