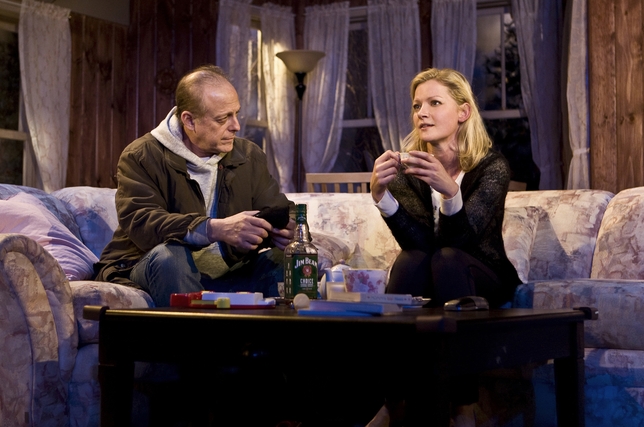 Inappropriate behavior runs rampant in Francine Volpe's "The Good Mother," the New Group's first production for the 2012-13 season. All five characters make seriously bad judgments as they stumble through a tortured web of accusations and countercharges over a bleak Thanksgiving weekend. None of them are without blame for their problems, and Volpe, director Scott Elliott, and the cast fail to provide a compelling reason for us to care what happens to any of these losers.
The trouble starts when lonely single mother Larissa invites goth teenager Angus to babysit for her autistic 4-year-old daughter, Alison, while Larissa hits the local bar in Mount Vernon, N.Y. When the nonverbal Alison begins acting strangely the next morning, Larissa charges Angus with molesting the child. Matters are complicated by the fact that Angus' father, Joel, a recovering alcoholic and alleged pedophile, was Larissa's counselor when she was a troubled adolescent. Also in the mix are her current boyfriend, trucker Jonathan, and former flame Buddy, now a police officer, each of whom has his own secrets and agendas. This brief summary barely scratches the surface of Volpe's convoluted story.
There are so many plot strands that it's difficult to keep them untangled, and Elliott's slack staging doesn't generate tension. Most of the cast is only competent, failing to convince that the stakes are high for their characters. Gretchen Mol has the difficult assignment of making the narcissistic Larissa compelling, but she doesn't impart the woman's complex objectives (wanting to escape her humdrum existence, justifying her trashy past) and her one admirable trait: her love for her baby. There are flashes of passion in Eric Nelsen's Angus, Darren Goldstein's Jonathan, and Alfredo Narciso's Buddy, but their performances are all too sketchy to create much of an impression.
The play only comes alive when veteran Mark Blum, as Joel, is onstage. In one long scene between Larissa and Joel, Blum creates an uncomfortably real portrait of a flawed man torn apart by his urge to help tortured youngsters and his baser instincts. The troubled therapist begins rationally diagnosing the dire situation affecting his son and gradually reveals his suppressed desire for his former client. It's hypnotically fascinating to watch Blum, who never moves from his sitting position on Derek McLane's homey set, slowly peel away Joel's professional façade to reveal the jittery dysfunctional wreck beneath. Perhaps a better title would have been "The Bad Therapist" rather than "The Good Mother."
Presented by the New Group at the Acorn Theatre, 410 W. 42nd St., NYC. Nov. 15–Dec. 22. (212) 239-6200, (800) 432-7250, or www.telecharge.com. Casting by Judy Henderson.
Critic's Grade: D