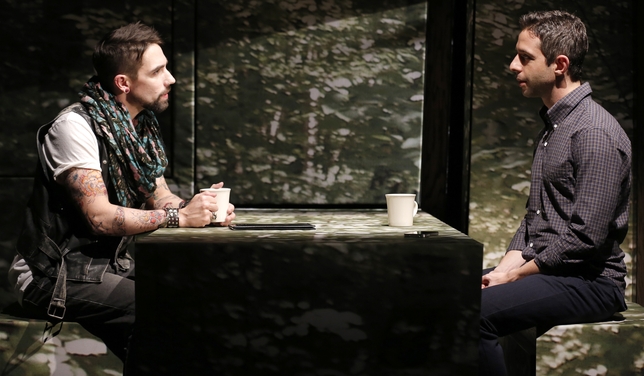 Make it three in a row for playwright Amy Herzog. Following in the wake of the excellent "After the Revolution" and "4000 Miles" comes "The Great God Pan," a moving and unsettling look at the nature of identity and the vagaries of memory. With subtlety and compassion, Herzog contemplates how well we can really know ourselves and whether in the process of self-construction we may unintentionally be creating our own limitations.
Herzog's protagonist is 32-year-old journalist Jamie, who as the play begins has been sought out by a childhood playmate he hasn't seen in 25 years. It seems that Frank, gay, tattooed, and intense, is suing his father for sexual abuse, and he has reason to believe that Jamie was also a victim. Jamie says no, that's not the case. But the information is a depth charge, with wide-ranging effects on Jamie and his relationships with his parents and his live-in girlfriend of six years, Paige, a former dancer studying to be a psychotherapist after an injury curtailed her career. An unplanned pregnancy only puts more pressure on the lovers, with Jamie's passive-aggressive withholding pushing things to the brink as he struggles with what he admits is a bad memory. When facts come to light proving that Frank's father at least had opportunity with him, Jamie's sense of self is irrevocably shaken.
"Revolution" director Carolyn Cantor guides the production with clarity and sensitivity. Jeremy Strong is a sympathetic Jamie even when behaving badly, meticulous in charting Jamie's increasing unease in his skin. Sarah Goldberg adeptly conveys Paige's inner conflict between loving Jamie and questioning his ability to maintain a mature relationship. Becky Ann Baker and Peter Friedman are terrific as Jamie's parents, Cathy and Doug, with Baker shining on a late-night phone call from the highly unsentimental Cathy to her son that's full of unstated regret, and Friedman masterfully handling a father-son heart-to-heart in which Doug must disclose some unpleasant truths.
Keith Nobbs makes Frank a disquieting bundle of energy, neediness, and heart, and Erin Wilhelmi is a sorceress of subtext as Joelle, a bulimic girl being counseled by Paige, an experience crucial to a decision Paige makes about Jamie. In her single scene, Joyce Van Patten plays Polly, Frank and Jamie's babysitter during the time in question, now in her 80s and in an assisted-living facility due to onset dementia. Van Patten's understated yet forceful work is a pleasure.
Mark Wendland's abstract set filled with projections of verdant forest suggests that everyone is wandering in the same woods but all is not lost, and Kaye Voyce's costumes are well-attuned to character. Japhy Weideman's moody lighting brightens notably for the concluding scene, further implying hope.
The title comes from a poem that Polly taught Jamie and Frank to recite as kids, and its use is as unexpected and fresh as the play it adorns. "The Great God Pan" raises interesting questions that reverberate long after the curtain comes down.
Presented by and at Playwrights Horizons, 416 W. 42nd St., NYC. Dec. 18–Jan. 13. (212) 279-4200, www.ticketcentral.com, or www.playwrightshorizons.org. Casting by Alaine Alldaffer.
Critic's Score: A