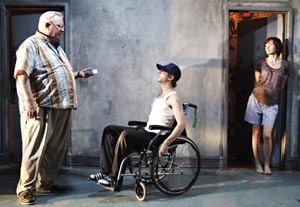 In real life, not a lot usually happens in the hallways of apartment buildings: conversations between neighbors, takeout deliveries, maybe an occasional mugging—not exactly the stuff of moving drama.
But in Adam Rapp's "The Hallway Trilogy," consisting of three separate full-length plays set in the same public space of a Lower East Side tenement at intervals of 50 years, momentous issues of health, death, love, art, and responsibility are examined. Rapp, one of our most prolific and daring playwrights, uses this format to explore how community has changed in urban America and how large social and political movements affect everyday people.
It's an interesting premise, but the result seems closer to a playwriting exercise than an organic distillation of life. Too many topics, themes, and events are squeezed in. On the plus side, three directors—Rapp, Daniel Aukin, and Trip Cullman—and a powerhouse cast of 14, most of whom take on two roles each, deliver three solid productions.
The first two plays rely too heavily on creaky devices such as total strangers pouring their hearts out to each other and tenants forced out of their apartments for contrived reasons. In addition, too much of the humor is derived from immigrants spouting malapropisms. But the third work is an imaginatively dark vision of a future filled with scientific advancement and spiritual despair.
"Rose" is set on Nov. 28, 1953, the day after legendary playwright Eugene O'Neill died. The title character, a failed actor, has come to the building with the bizarre idea that the dishonest superintendent, who happens to have the same name as the dramatist, is the real, still-living author, and she wants to audition for him. As she waits, the residents reveal their soap-operatic troubles to her. Frustrated romance is the biggest complaint, with fear of being accused of having Communist sympathies a close second.
There are several implausible plot points, including the hokey explanation for Rose's mistake about O'Neill, as well as underdeveloped characters, like a vaguely ominous Italian restaurateur who apparently owns the building and his Harpo Marx–like henchman, a mute clown with a penchant for performing acrobatics and rolling marbles.
"Paraffin" takes place on Aug. 14, 2003, the day of the massive East Coast blackout, and also revolves around the apartment dwellers' amorous disappointments and life struggles. The main action is focused on two brothers: Denny, a drug-addicted rock musician, and Lucas, a wounded veteran of the conflict in Afghanistan, who is more than a tad bitter over being confined to a wheelchair.
In a pair of familiar plot twists, Denny owes big money to a vicious gangster and Lucas is in love with his brother's pregnant wife, Margo. Lucas spews venom at everyone he comes in contact with, from his much older gay roommate to an attractive Israeli neighbor and her jealous husband.
Meanwhile, Denny continues to screw up his marriage, work, and future in order to feed his habit. In a gratuitously graphic scene, he strips naked and cleans the excrement from his posterior after a binge. There are some eerie and touching moments during the blackout, when secrets are revealed and a ghost from the first play makes a visit, but it's hard to care about these thin figures.
"Nursing," the final and best play, has the advantage of focusing on one story rather than confusing multiple arcs. In 2053, when illness has been eradicated, the building has been transformed into a museum of diseases. Lloyd, an angry vet like Lucas, has volunteered to be infected by fatal illnesses such as bubonic plague and cholera. The audience, filling in for museumgoers, watches him suffer behind a plastic wall. Just as the disease is about to finish him, Lloyd is given an antidote and the cycle starts again.
Though we never learn the reason for Lloyd's masochism—there are hints he tortured a Middle Eastern little girl while he was a soldier—Rapp delivers a full-bodied, believable protagonist. There are also deep characterizations of Lloyd's two nurses, Andy and Joan, both of whom fall in love with him, for different reasons. In the end, "Nursing" boldly examines trends in today's society and takes them to their logical, scary conclusions.
All three plays benefit from strong performances. Katherine Waterston makes a haunting and touching Rose. Logan Marshall-Green is blisteringly intense in the demanding role of Lloyd and makes the most of the cameo part of Richard, Rose's husband. Guy Boyd skillfully avoids stereotypes as the conniving super and the gay roommate. Maria Dizzia conveys pages of subtext with the smallest glance as Rahel, the Israeli neighbor, and Joan. Also worthy of mention are Sue Jean Kim, Danny Mastrogiorgio, and Louis Cancelmi.
Set designer Beowulf Boritt has created a detailed hallway, down to peeling paint and rusty pipes, while Jessica Pabst's costumes accurately evoke three different eras.
Presented by and at Rattlestick Playwrights Theatre, 224 Waverly Place, NYC. Feb. 24–March 20. Tue.–Fri., 8 p.m.; Sat., 4 and 8 p.m.; Sun., 1, 4, and 8 p.m. (212) 868-4444 or www.smarttix.com. Casting by Calleri Casting.