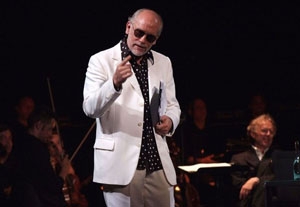 With his eerie drawl heightened by a lisping European accent, John Malkovich easily exudes his distinctive brand of quietly menacing creepiness throughout "The Infernal Comedy: Confessions of a Serial Killer." In this unusual mash-up of one-man show with operatic music, complete with chamber orchestra and a company of sopranos, Malkovich—in a no-brainer piece of casting—portrays the real-life Austrian serial killer Jack Unterweger. Imprisoned for murder in 1974, Unterweger used jail time to write his autobiography and other works, became a cause célèbre among the literati, was released, and while enjoying his celebrity went on to quietly kill a string of women in Austria and California. He was caught, imprisoned again in 1994, and then committed suicide.
Written and directed by Michael Sturminger, the piece depicts the dead Unterweger on tour to promote his latest book, written in purgatory. The interpolation of music to make his performance more interesting, he tells us rather grumpily, is his publisher's idea. He goes into the audience to bandy with us about sexuality, describing how irresistible he is to women, relating vague snippets about his life, and as the sopranos sing gently placing bras—his murder weapon of choice—over their gowns, eventually using the bras to demonstrate his method of strangling. While the script makes entertaining, sometimes humorous points about the cult of celebrity and the meshing of fiction into fact in pop culture, the monologues never congeal into a cohesive narration that grabs the emotions. Things stay pretty much on a cool plane.
As for the music, it is gloriously sung and played. At the performance reviewed, three sopranos performed: Kirsten Blaise; Marie Arnet, and Louise Fribo. (Sometimes only two appear.) The Orchester Wiener Akademie is conducted by Martin Haselböck, who's also credited with the show's concept. The arias interspersed throughout the monologues are from Baroque and early classical opera and sung by heroines in agonizing straits. This is undoubtedly a bonanza for die-hard fans of these operas, but others might find themselves, like me, wishing for a little more musical variety during the show's nearly two hours.
Malkovich first performed this play in 2008 in Los Angeles and has toured with it internationally. Making its first New York stop in a brief four-performance engagement, it brings to the Brooklyn opera house a grand sense of event. And with its score plucked from the work of such masters as Mozart, Beethoven, Haydn, and Vivaldi, it certainly lifts the jukebox musical to elegantly rarified heights.
Presented by Brooklyn Academy of Music as part of BAM 2011 Next Wave Festival at BAM Howard Gilman Opera House, 30 Lafayette Ave., Brooklyn, N.Y. Nov. 17–19. Thu. and Fri., 7:30 p.m.; Sat., 2 and 7:30 p.m. (718) 636-4100 or www.bam.org.