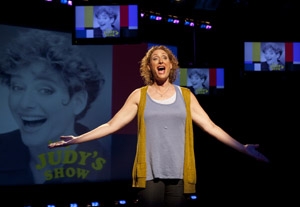 Judy Gold is probably the only person to have watched more TV as a kid than I did. In "The Judy Show: My Life as a Sitcom," her new one-woman show, co-written with Kate Moira Ryan, the actor-comic views her childhood through the lens of comforting 1970s sitcoms such as "The Brady Bunch" and "The Partridge Family." She compares her relationship with her lesbian partner to "Laverne & Shirley," and her quest to "make it on her own" is seen as just like that of Mary Richards, the character played by Mary Tyler Moore on that star's eponymous series. The through-line of this combined autobiography and standup act is Gold's so-far-unfulfilled mission to have her own sitcom, allowing her family—which includes her mother, who loves to complain; her ex-partner; her current girlfriend; and two sons—to be reflected in the great American art form she so enjoyed as a child.
Like John Leguizamo's just-closed "Ghetto Klown," Gold's 80-minute piece blends video images with hilarious anecdotes to trace through comedy the performer's journey toward self-expression. Tall, Jewish, and gay, Gold grew up as a misfit in high school and at sleep-away camp. ("I thought it would be like 'M*A*S*H' without the Korean War," she quips of the latter experience. "It was more like 'The Facts of Life' meets 'Lord of the Flies.' ") In college, she found her voice by making fun of her dorm mates, but she did not come out as a lesbian to her audience or her parents until much later. In the most moving moment of the performance, she relates how her father directly asked her about her sexuality and she couldn't bring herself to openly discuss it with him. He died soon thereafter, and she never had the chance to tell him the truth about herself.
Such intimate, heartfelt vignettes are placed cheek by jowl with cracks about her mother stealing shampoo from hotels. Gold manages to balance the pathos with the punch lines, never leaning too heavily on either. When she begins to get into anything too deeply, a joke quickly follows. Director Amanda Charlton probably had a hand in striking that balance and gives the proceedings a smart, fast pace.
The show is a bit like spending an hour catching up with an old acquaintance in a coffee shop. Gold does tend to push a bit too much with the Jewish stereotypes: Her voice rises several decibels every time she imitates her mother, which becomes repetitive. That's my only serious complaint about this light, fun show.
Presented by Daryl Roth and Eva Price, in association with Jamie Cesa, Lynn Shaw, Tom Smedes, Bruce Robert Harris, and Jack W. Batman, at the DR2 Theatre, 105 E. 15th St., NYC. July 6–Oct. 22. Mon., Wed.–Sat., 8 p.m.; Tue., 7 p.m.; Sat., 2 p.m. (Additional performance Sun., July 10, 3 p.m.) (212) 239-6200, (800) 432-7250, or www.telecharge.com.