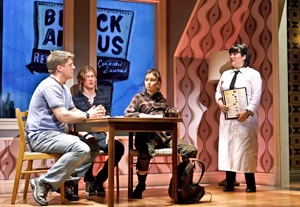 Musicalizing sex columnist Dan Savage's 1999 book about adopting a child with his boyfriend might seem an unpromising idea, but the New Group's "The Kid" quickly persuades otherwise. In fact, what's good is so good that it makes the show's stumbles all the more glaring. Nevertheless, the creators get it right more than they get it wrong in this funny and touching new musical.
Dan and Terry have been together for two years when they decide to get pregnant. They choose an open adoption, in which the birth mother remains involved in her child's life. We follow the couple from an introductory seminar, at which they are surrounded by straight couples "grieving" their infertility, through the invasive vetting process, to getting "picked" by Melissa, a 19-year-old homeless gutter punk, and right up to the nail-biting moment of birth, after which Melissa can still change her mind. Along the way the couple's friends weigh in with their support (or lack thereof) and Dan's mother hovers, itching for grandmotherhood.
Book writer Michael Zam telescopes intelligently and excels at capturing Savage's quirky comic voice. Unfortunately, in an attempt to get the piece out of Savage's head and give it more dramatic action, Zam makes a serious misstep in reimagining Bacchus, the baby's father. Making him a sudden obstacle to the adoption is pat and sentimental, rendering the storyline phony. Jack Lechner's lyrics are a major asset: clever, witty, attuned to character, and distinctly well-crafted. Composer Andy Monroe's music is attractive but lacks muscle. In particular, the choice to have Terry, who only listens to techno pop and Björk, sing in the same vocabulary as the show tune–loving Dan saps Terry's individuality. Lechner and Monroe also struggle with the ensemble numbers, which often seem more dutiful than organic, particularly the generic "Seize the Day." Nevertheless, much of the score works, and the songwriters deserve high praise for Melissa's "Spare Changin'," which neatly solves the problem of making a character who seems unlikely to sing do so.
Christopher Sieber's winning Dan immediately forges a strong bond with the audience in his direct-address sections. Sieber's light touch is just what's needed for the rather neurotic character. Not only is the humor deftly tossed off; the poignancy of Dan's worry that he won't bond with the baby is beautifully served by Sieber's subtle playing. Lucas Steele is just about perfect as Terry, emphasizing the character's delicate strength and providing enough detail to make up for the lack of it in Terry's music. As the nearly monosyllabic Melissa, Jeannine Frumess rivets attention in a myriad of nonverbal ways.
Jill Eikenberry is a welcome wry and centered presence as Dan's mother, though the character is underused. Michael Wartella, as Bacchus, can't surmount the clichéd writing but sings his sole number with welcome simplicity. Susan Blackwell plays Terry and Dan's caseworker, Anne, and her deadpan pays off handsomely, particularly in the inventive "Nice," when Anne inspects the couple's apartment. Blackwell also plays other, less-interesting roles, along with five other members of the overqualified ensemble, which includes such names as Ann Harada, Brooke Sunny Moriber, and Tyler Maynard.
Director Scott Elliott deserves as much credit for the fine performances as he does blame for the dramaturgical failings. Derek McLane's unit set, depicting the couple's apartment, sometimes confuses us during scenes not in the apartment, but the bold wallpaper, full of waves and dots, transforms nicely under Howell Binkley's changing color washes, while the windows admirably accommodate Jeff Scher's sly animation and Aron Deyo's video design.
Right now "The Kid" is an engaging but flawed evening. Here's hoping that, as with "Next to Normal," its creators get a chance to keep working on what could become a real gem.
Presented by the New Group at the Acorn Theatre, 410 W. 42nd St., NYC. May 10–29. Mon., Wed.–Sat., 8 p.m.; Tue., 7 p.m.; Sat., 2 p.m. (212) 279-4200 or www.ticketcentral.com. Casting by Judy Henderson.