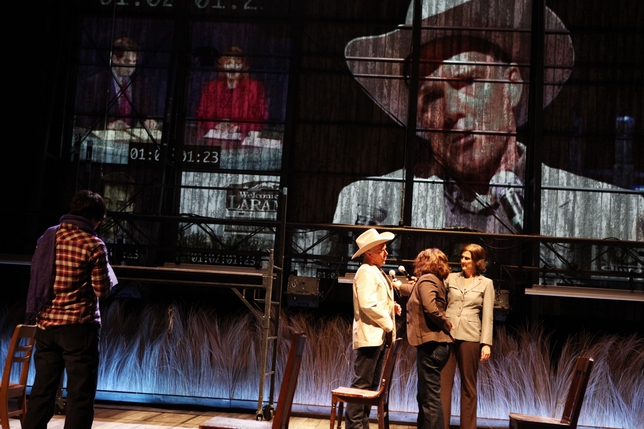 Did the brutal 1998 murder of Matthew Shepard really change American attitudes about LGBT people? That's one of the questions that the members of Tectonic Theater Project set out to answer in their 2009 "The Laramie Project: Ten Years Later," which is finally receiving its New York City debut as part of "The Laramie Project Cycle," pairing the new work with the company's landmark 2000 docudrama. More cerebral and less emotional than "The Laramie Project," which if anything feels more powerful today in this stirring, deeply moving production, the sequel plays like a thoughtful coda to the main event.
Six of the eight original cast members—Stephen Belber, Amanda Gronich, Mercedes Herrero, Andy Paris, Greg Pierotti, and Barbara Pitts—are seamlessly joined by newcomers Libby King and Michael Winther, and all give precise and effective performances. Moisés Kaufman and "members of the Tectonic Theater Project" are credited with authorship of the original show, while the second was written by Kaufman, Pierotti, Paris, Belber, and Leigh Fondakowski, who directs with Kaufman. Both scripts are based on extensive interviews the performers conducted with Laramie, Wyo., residents of all stripes, as well as others, including Shepard's parents, but the sequel also features interviews with the two killers, Aaron McKinney and Russell Henderson, each serving two consecutive lifetime prison terms for the horrendous crime.
The actors slip nimbly among limning the interviewers and their subjects, and the fact that most of the original cast has returned and so are playing themselves gives the proceedings a special immediacy. As a foreword to the script explains, there are no scenes, only "moments," which are defined as "a unit of theatrical time." These moments bang up against each other forcefully, snowballing into a powerful dramatic thrust. Excellent use is made of John Narun's projections, which inventively combine real-time video of the onstage actors with period footage. Robert Brill's inspired set consists largely of hanging weathered wooden panels, an upstage row of wheat stalks, and tables, desks, and chairs, simple, everyday objects that are echoed in Moe Schell's down-to-earth costumes, whose careful specificity helps us to remember characters. Betsy Adams' quiet lighting, Leon Rothenberg's crisp sound, and Peter Golub's flowing music complete a physical production that has been expertly expanded from the Off-Broadway original to fit the much larger BAM Harvey Theater.
It is disturbing to hear people in Laramie and elsewhere, particularly those too young to have a clear memory of what happened, insisting 10 years later that the killing was not a hate crime motivated by homophobia but instead just the result of drugs and a robbery gone bad. That's an urban myth fueled in part by a sensational and inaccurate but never retracted "exposé" aired on the TV program "20/20" in 2006. But as the sequel forcefully dramatizes, when confronted with cognitive dissonance, people are more apt to change the facts than their worldview. Nevertheless, we also see that some progress has been achieved.
You can catch the complete show on successive nights or in weekend one-day marathons. "The Laramie Project Cycle" is essential and stunning theater. Go!
Presented by Brooklyn Academy of Music and Tectonic Theater Project at BAM Harvey Theater, 651 Fulton St., Brooklyn, N.Y. Feb. 13–24. (718) 636-4100 or www.bam.org.
Critic's Score: A