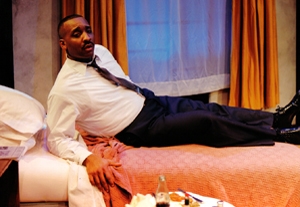 When you put on a one-person show about a figure from a century before the 20th, no one is likely to question your imaginings about what the subject might have said in private, much less your choices for his or her speech patterns and physical stances. Edmund Kean or Mary, Queen of Scots? Go for it—your way. But a solid collective memory kicked in about 1900 (even Teddy Roosevelt and Sarah Bernhardt made it onto film and recordings, if just barely), and ever since, for those of us who couldn't possibly recall a subject personally, there have been audio and video, lately on YouTube, to augment the written record of prominent lives. Even what once were considered private moments have been caught on tape and film in the last four decades or so and widely disseminated.
The Rev. Martin Luther King Jr. was discreet and largely uncaught in public throughout his short life, but most of us know how he looked and talked, whether first- or second-hand. Craig Alan Edwards, the author-actor of this 90-minute play, has imagined King's conversation with himself on his last night on earth, which is dodgy enough. Edwards, an actor clearly committed to his subject, bears only a passing resemblance to King. He tries to make up the difference in vocabulary and accent but misses the mark. We in the audience know that King pronounced things like "move-MENT" and "All-BENNY" (meaning the city in Georgia and not the capital of New York). Edwards' locution at best is only halfway there. Ironically, he is more believable as King imitating others, including King's father, a strongly opinionated but more conventional and patient Baptist preacher than his son; King's wife, Coretta, the conservatory-trained singer who would rather she and her husband had stayed in Boston; and the Rev. Ralph Abernathy, King's dogged partner in the Southern Christian Leadership Conference.
The setting is the title room in the Lorraine Motel in Memphis, Tenn., on the evening of April 3, 1968. King is resting prior to attending a rally in support of sanitation workers. The news and music of the day blare from the radio by his bed via WDIA, the first station in the United States programmed by African Americans. Edwards sets up the major flaws of the 39-year-old civil rights leader right away, thanks to a one-sided phone call from an unnamed aide. On display are King's sloth (dozing off while pretending to be working), vanity (waiting to see if a big enough crowd shows up to justify his personal appearance at the rally), and womanizing (chortling over a message relayed from a local girlfriend). After the phone call is through, Edwards as King starts talking to the audience. The transition is unearned, as are the ruminations the playwright has put in King's mouth. What is true in the narrative, taken from King's speeches and from news reports, at least lends some credibility.
The design team, fortunately, has taken no notice of the play's deficiencies and offers exemplary support. Andy Cohen's sound design not only incorporates 1968 voices and songs but also provides believable thunder and lightning to portend the tragedy that will occur later. Charlie Corcoran's set design, of a character-free room in a motel in the Deep South that would agree to rent to a prominent Negro (the term King was still using), is exactly right. Jill Nagle's lighting design is first-rate too. Director Cheryl Katz seems to have taken Edwards' made-up text at face value and has staged the proceedings in a realistic and thoughtful way.

Presented by Luna Stage at 59E59 Theaters, 59 E. 59th St., NYC. Jan. 20–Feb. 14. Tue. and Wed., 7:15 p.m.; Thu. and Fri., 8:15 p.m.; Sat., 2:15 and 8:15 p.m.; Sun., 3:15 and 7:15 p.m. (212) 279-4200 or www.ticketcentral.com.