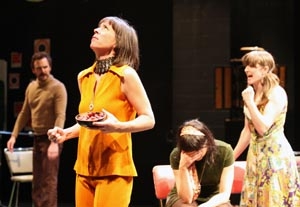 Many audience members will be disappointed to know that Stella Burden is not a real person. The Rude Mechanicals, the Austin-based company that created and performs "The Method Gun," has crafted her legacy as a 1970s acting guru with such vividness, and it honors her "loss" with such sincerity, that one can leave the theater tempted to Google her name. But it is the courage to let go of our teachers, even as we salute them, that is the final gift of this tender, smart play.
The conceit of "The Method Gun" is that the Mechs are re-enacting the rehearsal process for Burden's acting company's final performance, an unconventional take on "A Streetcar Named Desire," after their leader has mysteriously disappeared. Burden becomes an absent Godot as the actors struggle to find direction and reaffirm their commitment to the cause. In the process, a metatheatrical meditation on collectivity, faith, and trust emerges. In the production's unexpected and gripping final moments, it becomes clear that the actors must look to each other, rather than outside themselves, for direction and approval.
This is a tale that the Rude Mechanicals are primed to tell, not only because of the company's own history as a leaderless collective, but because its casual and uncharismatic performance style makes its virtuosity and precision invisible—and thus ready for revelation. It's impossible to find a standout performer among the company; the five cast members are so at home with each other that a star turn would feel out of place. All the better for the uncredited sixth actor, who, dressed as a tiger with a penchant for standup comedy, occasionally interrupts the scene with the most memorable dramaturgical advice you're likely to hear. (Hint: It involves tigers.)
It is such irreverence that keeps "The Method Gun" lively and unpretentious. Leilah Stewart's set matches this spirit, laying out idiosyncratic props (slide projector, shrine to Burden, a gun in a birdcage) alongside the accoutrements of a rehearsal studio (table, chairs, marking tape, piano) and leaving lots of space for the actors to enact their ritual of mourning and liberation, laying down the burden of their Stella.
Presented by and at Dance Theater Workshop, 219 W. 19th St., NYC. March 4–12. Tue.–Sat., 7:30 p.m. (Additional performances Sat., March 5, and Fri., March 11, 10:30 p.m.) (212) 924-0077 or www.dancetheaterworkshop.org .