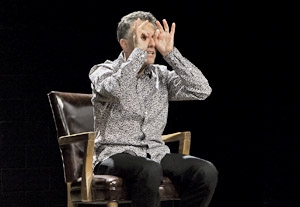 It's easy to describe what "The Myopia" looks and feels like, but it's much harder to summarize. What it looks like is writer-performer David Greenspan—whose soothing voice and gentle, focused expressivity make him one of the most magnetic performers in New York City—sitting on a chair and talking for two hours. His outfit is casual, and his only prop is a thermos from which he occasionally takes a drink. But if Spaulding Gray's monologues are the paradigm of solo performance as confession and intimacy, Greenspan's "The Myopia" is the opposite extreme, landing somewhere between radio play and magic show.
The story Greenspan tells is first of all a play, complete with stage directions, descriptions of mise en scène, and a lengthy dialogue about why the second, third, and fourth acts are cut (spoiler alert: Carol Channing was involved). His gestural language is as rich as his words; the images he conjures materialize before us.
Rather than summarize the Tilt-a-Whirl of interrelated stories Greenspan's play tells, it's better to sample some of his more memorable moments. A testy Rapunzel figure sings a haunting rendition of the title song from "Funny Girl" in the shower. Henry Cabot Lodge orchestrates a smoky gathering of senators into giving the dull-witted Warren G. Harding the 1920 Republican nomination. (I didn't know how many varieties of fussy aristocratic male there could be until Greenspan played 13 of them.) A glowing, anthropomorphic orb ruminates over the scattered papers of its dead father. Koreen, a jealous giant, tears down her husband's castle and runs to the ocean, where she converses with her Poseidonlike father. In this new twist on meta-theater—a play-within-a-bunch-of-plays-within-a-playwright—Greenspan contains multitudes.
In typical fashion, he peppers his monologue with ruminations on dramatic theory, including a reference to a Gertrude Stein essay. The great modernist once promoted a new kind of playwriting, one in which plays don't tell stories but place the landscape of existence before the audience's eyes. Stein, like Greenspan, wants to teach audiences how to see, to connect with the present and not wait for each thickly plotted melodrama (on stage or off) to reach its conclusion.
On Saturdays and Sundays, Greenspan performs that very Stein essay as a kind of prologue to "The Myopia." "Plays," the title of both essay and performance, is his newest work. ("The Myopia" was first performed in 1998.) Seen as a double bill, each show enriches the other. As performed by Greenspan, sitting behind an oak desk with a notebook and a glass of water, "Plays" is a ritual of devotion. Stein is obviously a second language for Greenspan, so much so that he doesn't need to be precious with her words. He makes light fun out of her inscrutable wordplay and the casualness of her pretension ("All this is very important, and important for me and important, just important"). "Plays" is a sweeter and quieter play than "The Myopia," but it models the loving attention Greenspan demands of us in the larger and more ambitious play.
For indeed, it is the magic, not the multitudes, that is the real subject of "The Myopia." In a series of scenes that concludes the play, the main characters see their lives flash before their eyes, and each asks the same question: "What happened?" That this question is also the title of Gertrude Stein's first play is no coincidence. What happened, after all, is exactly what happens to the audience for Greenspan's virtuosic performance. The landscape of life spreads itself out before us as suddenly and as completely as a scene coming into view behind a rising curtain. And then it vanishes, just as completely. What's left is an insatiable desire to make present what's past, to hold on for just a little bit longer.
Presented by the Foundry Theatre at Atlantic Stage 2, 330 W. 16th St., NYC. Jan. 10–Feb. 7. "The Myopia": Wed.–Sun., 7:30 p.m.; "Plays": Sat. and Sun., 4:30 p.m. (212) 352-3101, (866) 811-4111, www.theatermania.com, or www.thefoundrytheatre.org.