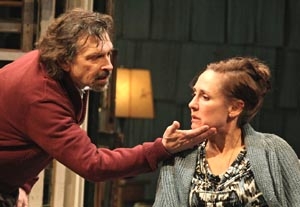 Laurie Metcalf proves yet again that she is one of our finest actors in her raw and riveting portrayal of Dr. Juliana Smithton in Sharr White's taut, incisive puzzle play "The Other Place," from MCC Theater. This unflinching look at a dementia specialist who begins to develop the condition herself combines an inventive structure with first-rate character observation. Under Joe Mantello's disciplined, keenly intuitive direction, the 80-minute show takes nary a false step as it comes together piece by piece to form a harrowing and moving tale.
White begins with Juliana giving a presentation to a conference of physicians about a new and possibly breakthrough dementia drug. It was there, she tells us, that "the first glimmer" of her problems came to her. The lecture is soon interrupted by scenes from both the future and past involving her husband, Ian, a famous oncologist; their estranged daughter, Laurel; Laurel's husband, Richard, a post-doc who once worked with Juliana; and Cindy Teller, the young doctor treating Juliana. We soon learn that we cannot take these scenes at face value and gain information as to why Laurel ran away at age 15 and ceased communicating with her parents.
When Juliana's conviction that she is suffering from brain cancer is proved wrong, she is forced to begin reckoning with the real cause of her symptoms, as well as the truth about her relationship with her daughter. This leads to a climactic scene at "the other place," which is Juliana's name for the Cape Cod beach house that's been in her family all her life. That's where Laurel ran from, and it's also the place where Juliana will finally experience a release from that tragedy, in a breathtakingly original and beautifully written scene.
Juliana is a tour de force role, and Metcalf dominates as a woman whose sharp intelligence is, as White's script describes, "her greatest asset and her largest burden." Harsh and cutting one minute, vulnerable and scared the next, Metcalf doesn't leave a note unplayed. She inhabits Juliana's sudden rages with a scary intensity, and when the character comes to the realization that her fierce denial of her problems may have been the architect of the tragedy that consumes her, Metcalf is quietly shattering.
Dennis Boutsikaris offers excellent support as Ian, subtly showing us the deep strain of the supreme effort this loving husband makes to help his troubled spouse. Boutsikaris captures with painful honesty the metastasizing pain of being confronted with a loved one who is suddenly a stranger. Aya Cash is a matter-of-factly authoritative, unintimidated Dr. Teller and a properly conflicted Laurel. But she really shines as a third character, a young almost-divorcee whose simple decency allows her to perform a supreme act of kindness for Juliana. John Schiappa has the least to do as Richard, a helpful medical technician, and a sympathetic nurse, but he handles all three roles with confidence.
Eugene Lee's encompassing lattice set of interlocking window frames is a perfect metaphor, and Justin Townsend effectively lights its neutral surface to create shifting emotional tones. Dane Laffrey's contemporary costumes emphasize the ordinariness of the characters' lives. Fitz Patton's sound design provides important punctuation and helpfully delineates among Juliana's lecture, her inner thoughts, and dramatic scenes. William Cusick's video and projection design contributes appropriately enhancing visual underscoring, as well as a softly stunning final image.
I lost my mother to a long battle with multiple sclerosis, which in its more advanced stages produced behavior in her remarkably similar to dementia symptoms. I salute White for his rigorously unsentimental portrait of the agonizing toll that can take on all involved, as well as his wise acknowledgment that even though some damage can never be repaired, healing is still possible.
Presented by MCC Theater, in association with Marc Platt, by special arrangement with the Lucille Lortel Theatre Foundation, at the Lucille Lortel Theatre, 121 Christopher St., NYC. March 28–May 1. Tue. and Wed., 7 p.m.; Thu. and Fri., 8 p.m.; Sat., 2 and 8 p.m.; Sun., 3 p.m. (No performance Tue., March 29.) (212) 279-4200 or www.ticketcentral.com. Casting by Telsey + Company.