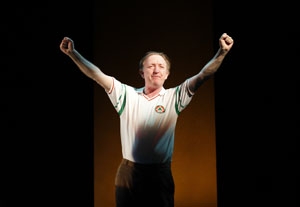 In his 1990 play "In High Germany," Dermot Bolger introduced audiences to Eoin, Mick, and Shane, three Irishmen in their late 20s forced to leave their country in search of hope, renewal, and a job. Entirely narrated by Eoin as he looks back on their friendship, the show ends with all three emigrating to separate corners of the world after watching Ireland play in the 1988 European Football Championship as one last toast to the homeland.
"The Parting Glass" returns to Eoin 20 years later and remarkably moves Bolger's earlier themes effortlessly and elegantly into the next generation. Viewers of the earlier play will experience more than a few moments of déjà vu. The new play also sees the three friends united at a soccer game (although Eoin has a son in tow, and Mick's ashes are in an urn). Eoin again serves as the narrator as he prepares to embark on a new journey, this time by airplane rather than by train. And if Eoin himself looks familiar, it's because Ray Yeates played him before, two decades ago.
The fact that Yeates has aged along with Eoin gives his performance a magnetic quality, so familiar is he in his skin and with these characters. In a powerful one-man performance, the actor narrates what has passed since Eoin left Ireland, moved to Hamburg, fell in love, and fathered a child. But despite the new life, Eoin can't escape the pull that his father, also an economic migrant, felt a generation before: the need to return and raise a son "with an Irish accent under the Irish flag."
When Eoin gives in and moves the family to Dublin, Bolger's script poignantly captures all the conflicting and disorienting sensations one experiences after a long time away from home. Encountering the results of the Irish economic boom that ironically followed his departure, Eoin's rapid-fire remarks mingle the absurd with the bittersweet. "All the women have turned blond," he says, getting a laugh. Then, quieter: "I get lost on new roads going to see my mother." The superimposing of Eoin's story over the background of Ireland's boom and subsequent bust of the 2000s makes his relationship with his country ever more complicated as he struggles to define what "home" is.
Unsurprisingly, given his history in the role, it feels like Yeates has been speaking these lines for years, which occasionally gives his performance a hurried, recitative quality. Dramatic climaxes come out of nowhere, often unheralded by any change in pacing or register. This can be refreshing, imitating the incomprehension that often accompanies a sudden shock. But several sections could stand deceleration, as director Mark O'Brien has left precious few moments for quiet reflection.
But perhaps Bolger's characters don't need periods of calm contemplation, as we might. As Eoin's family shatters and Ireland's economy again begins to crumble, it's always the collective energy of the soccer pitch that unites him and his countrymen, even in hard times, and that infectious energy ultimately draws us in as well. As we're left pondering the tangled futures of Eoin and of Ireland, we can't help but think that as Ireland embarks on a three-year recovery plan, such spirit offers some hope for a new day ahead.
Presented by Axis: Ballymun at the Barrow Street Theatre, 27 Barrow St., NYC. July 20–31. Wed.–Fri., 9 p.m.; Sat., 2:30 and 9 p.m., Sun., 5 p.m. (212) 868-4444 or www.smarttix.com.