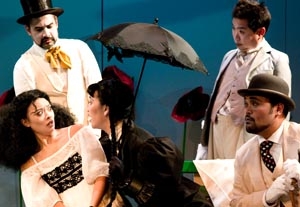 In their production of "The Seagull," director Gia Forakis and a talented cast of 11 seem to be on a mission to rescue Chekhov from what they see as the shackles of naturalism. They do this by turning the Russian playwright's deeply compassionate portrait of bruised lives into a clown show. Certainly, much of Chekhov's genius lies in how he shows us the pain and futility often threaded through the vaudeville and ordinariness of everyday life. But this production seems obsessed with little besides the vaudeville.
Almost every other word of dialogue in Paul Schmidt's contemporary-sounding translation is illustrated by a set gesture or change in stance. Speeches and actions are often punctuated by sound effects and music reminiscent of Looney Tunes. The makeup is exaggerated; the costumes and sets have a cartoon look. There are pratfalls and even a spit take. And, oh yes, we also get the titular bird, portrayed by Lavrenti Lopes wearing white tails and a big head that looks like a marshmallow with a long yellow beak. He periodically wanders through the scenes wordlessly and rather aimlessly, as the self-absorbed actress Arkadina (Mia Katigbak) and her lover, the self-absorbed writer Trigorin (Marcus Ho), casually and unconsciously destroy Arkadina's son Kostantin (Peter Kim) and Nina (Tiffany Villarin), the aspiring actress who lives across the river.  
Misguided as this may be, the company's fervor and skill is impressive, even winning at times. And the show is sometimes quite funny, but at Chekhov's expense rather than to his benefit. Although it has obvious aspirations to the avant-garde, it most often resembles old-time melodrama being expertly parodied on the old Carol Burnett or Sid Caesar TV show. Only toward the end of the play—during the final meeting of Konstantin and Nina—do the actors soften the rigor of their stylized portrayals and allow us to get caught up in the heart-wrenching poignancy of Chekhov's classic.   
Presented by the National Asian American Theatre Company at Theater for the New City, 155 First Ave., NYC. Oct. 1–17. Mon.–Sat., 7 p.m. Additional performance: Wed., Oct. 14, 1 p.m. (212) 352-3101 or (866) 811-4111.