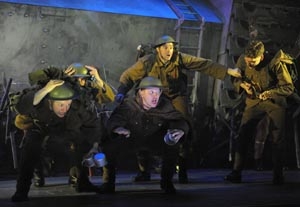 Director Garry Hynes seamlessly joins broad comedy and epic despair in the Druid Theatre Company's heartbreaking and hilarious revival of Seán O'Casey's "The Silver Tassie." Presented for an alarmingly short run as part of the Lincoln Center Festival, this rarely seen tragicomedy focuses on two robust young men from the slums of Dublin whose physical and mental health is destroyed by World War I.
Harry Heegan is a champion soccer player who spends his leave from the army leading his local team to victory and taking home the silver tassie (or loving-cup trophy) of the title. Meanwhile, his friend and neighbor Teddy Foran is busy abusing his wife and smashing her china. Their situations change radically when Harry is paralyzed from the waist down and Teddy is blinded. Harry loses the love of the fickle Jessie, and Teddy's formerly cowering spouse takes to dictating his every move.
This basic storyline could be the stuff of a studio-era movie melodrama, but O'Casey juxtaposes the tragedies of the battlefield and the home front with an almost absurdist comic sensibility, chiefly provided by Sylvester, Harry's wastrel father, and Simon, Sylvester's companion in drinking and bragging. This pair ironically comments on the action in a series of sketchlike turns satirizing the waste of the war and the inability of Irish institutions such as hospitals and the Catholic church to heal or comfort the wounded. Hynes, who won a Tony for her funny and brutal staging of "The Beauty Queen of Leenane," lets us know right away that we're in for a darkly comic view of war. She has Sylvester and Simon enter from the audience and stand in front of a curtain like a pair of vaudeville clowns. They even wear bowler hats like Beckett's funny-sad tramps in "Waiting for Godot." When the curtain rises on Francis O'Connor's blood-red set depicting the Heegan tenement apartment, they quarrel about the details of drunken brawls as Susie, a religious young woman secretly in love with Harry, lectures them on the dangers of hellfire. Hints of the massacre occurring in continental Europe slowly seep through the comic scenes as the characters await Harry's return from his final soccer game, after which he and Teddy must make it to the troop train.
The second act abruptly changes from domestic cheer to hellish warfare, but the vaudeville aspects remain, with Harry and Teddy's fellow soldiers bursting into ironic song-and-dance routines, using their tin helmets, spoons, and cups for percussion. This eerie sequence is dominated by a massive tank stopped amidst the rubble of a monastery. O'Connor's design is a nightmarish vision that's ghoulishly lit by Davy Cunningham. The third and fourth acts depict the handicapped veterans' struggle to adjust to their postwar status as pitied outcasts rather than roguish heroes, first in a grotesquely hostile hospital, then in the soccer club's recreation hall. In a final ironic touch, Armistice Day is celebrated along with the team's championship, the one in which Harry triumphed. The victory party was postponed because of the war.
The combination of raucous high jinks, Brechtian musical interludes, heartbreaking pathos, and O'Casey's heightened language would be a challenge for any company, but Hynes and the Galway City–based Druid company bring just the right balance of verisimilitude and over-the-top excess for maximum emotional impact. Garrett Lombard perfectly captures Harry's harrowing transformation from king of the neighborhood to rejected reminder of mortality. As Teddy, Liam Carney takes a similarly affecting journey, from selfish brute to introspective blind man. Eamon Morrissey and John Olohan make Sylvester and Simon a couple of charming clowns. There are also strong contributions from Clare Dunne, as the judgmental Susie; Marion O'Dwyer, as Teddy's long-suffering wife; and Ruth Hegarty, as Harry's sympathetic mother.

Presented by Druid Theatre Company and Culture Ireland as part of Lincoln Center Festival 2011 and Imagine Ireland at the Samuel W. Lynch Theatre, John Jay College, 899 10th Ave., NYC. July 26–31. Tue.–Sat., 8 p.m.; Sat. and Sun., 2 p.m. (212) 721-6500 or www.lincolncenterfestival.org. Casting by Maureen Hughes.