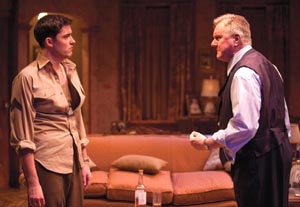 Frank D. Gilroy's "The Subject Was Roses" is a milestone work in my life. I first encountered it via the highly faithful 1968 film adaptation, which Gilroy scripted. I was so gripped by it that I insisted my parents attend. When they came home that night I got an earful, and as I was enduring their horrified, angry reaction, it suddenly dawned on this bewildered 14-year-old that perhaps I had sent them because I wanted them to see themselves in it. I tell this story to illustrate the power Gilroy's work can wield. Unfortunately, that power is only fitfully present in the Pearl Theatre Company's respectful production.
The time is May 1946, and the place is a middle-class Bronx apartment. Young Timmy Cleary has just returned from World War II after two years in the army. The war has inevitably turned the boy into a man, but he is thrust back into his former role when he re-enters the dynamics of his parents' damaged marriage. The son's affections have been used as a weapon in the war between his parents in the past, and old patterns re-emerge. Timmy, who loves them both, also feels responsible for problems that ultimately have nothing to do with him. Once the highly combustible situation explodes, hard truths are learned and necessary adjustments made.
The Irish-American, staunchly Catholic Clearys navigate life through emotional suppression, and so there are reams of subtext for the actors to play. Director Amy Wright gets things off to a good start, quickly establishing Nettie and John's unhappiness before we meet Timmy. With his entrance, their dynamic changes, and we watch all three playacting the relationship they would prefer to have. We're assailed with an overpowering feeling of people walking on eggshells. As those shells start being cracked, by characters who can't help themselves, we should get an increasing sense of foreboding. But that never really takes hold, mostly because Carol Schultz, as Nettie, and Dan Daily, as John, aren't mining enough of that subtext. Schultz needs to make more of Nettie's festering resentments about her husband, letting us see the effort it takes her to repress them. Daily lacks the almost panicked macho bonhomie of this coffee salesman who likes to put 'em away with the boys down at the bar. John should be a man we can imagine might slap his wife or son if sufficiently threatened. Daily's John would never do such a thing, which makes the moment when he drunkenly tries to force his sexual attentions on Nettie awkwardly unconvincing.
Matthew Amendt fares better as Timmy, confidently limning a young man wrestling with a newfound maturity he doesn't quite understand. Whether coaxing his reluctant mother into a dance or making a bravely open declaration of love to his father, Amendt's Timmy glows with an emotional vibrancy that buoys the production. But the presence of inappropriate audience laughter in Timmy's climactic confrontation scene with John, about leaving to live on his own, should have alerted Wright that better directorial calibration was needed.
Harry Feiner and Barbara A. Bell provide the appropriately realistic kitchen-sink set and period costumes, respectively, though I did have a bit of a problem with characters casually walking through what should be a wall separating the living room and kitchen. Stephen Petrilli's atmospheric lighting is notable for a fine Morton Da Costa end-of-scene touch in Act 2 (think of the way scene endings are lit in the film of "The Music Man").
Still, despite the production's flaws, if you've never encountered Gilroy's wonderful play, you'll probably be glad the Pearl has allowed you to make its acquaintance. 
Presented by the Pearl Theatre Company at New York City Center Stage II, 131 W. 55th St., NYC. April 18–May 9. Tue., Thu.–Sat., 7:30 p.m.; Wed., Sat., and Sun., 2:30 p.m. (212) 581-1212 or www.nycitycenter.org. Additional casting by Stephanie Klapper.