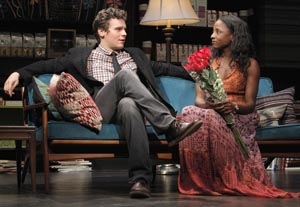 It's easy to see why Jeff Talbott's play "The Submission" won the first Laurents/Hatcher Foundation Award for playwriting. Fearless, whip-smart, and hyperarticulate, Talbott's incendiary political comedy-drama asks hard questions about our supposedly post-racial world and will likely make audiences uncomfortable. Good for him. As delivered by a crackling cast of four under Walter Bobbie's swift direction, the 105-minute intermissionless show is spectacularly entertaining. Yes, there are some flaws in logic and motivation, and at times the rapid-fire dialogue comes to sound like didactic arguing rather than the organic expression of character, but these problems can't derail the proceedings. "The Submission" scintillates.
The quartet of 27-year-old characters is headed by the gay and white Danny, a struggling playwright who has just finished a work unlike anything he's ever done. Or so says his stunned best friend, the straight and white Trevor, who's been the first to read it and somewhat jealously pronounces it really good. There's a catch, however. Danny's play is about an alcoholic black mother and her cardsharp son trying to get out of the projects. Scared that he won't get produced because of the disconnect between author and subject matter, Danny submits the show to theaters under the pseudonym Shaleeha G'ntamobi. When the play is accepted for production at Kentucky's prestigious Humana Festival, he compounds the problem by hiring Emilie, a struggling black actor, to "play" Shaleeha. Their relationship begins warily, gets giddy, then starts to go off the rails under the pressures of the deception, her submerged homophobia, and his unconscious racism. Poor Pete, Danny's loving partner, who knows not from the showbiz, and Trevor, who has gotten together romantically with Emilie, are gradually drawn into the battle until all that the characters hold dear is at risk.
As Danny, Jonathan Groff continues to prove himself one of our finest young actors today. Groff endows this impatient and hungry writer with reams of seductive, boyish charm, then turns on a dime to frighteningly steely resolve when Danny perceives that his art is being threatened. Groff also credibly integrates the dichotomy of Danny's conversational inarticulateness in personal relationships with his torrents of precisely chosen words when arguing. Rutina Wesley, who can flash her eyes as few can, is an ideal match as Emilie, running the gamut from girlish flirtation (trying to get the job) to dizzy infatuation to glowering storm warnings and finally molten anger. Will Rogers fills his deeply decent, increasingly anguished Trevor with a great reservoir of unspoken feeling. As the loyal Pete, Eddie Kaye Thomas shows admirable range as he pivots from his fine work in last season's "Bachelorette" as a sleazy girl hound.
David Zinn's simple but ingenious set, with its back wall of revolving periactoids that allows for instant changes, is both an ideal choice and a source of understated humor in the way it varies ever so slightly the interiors of a chain of coffeehouses. Combined with David Weiner's sharp lighting, Anita Yavich's cool contemporary costumes, Darrel Maloney's tone-enhancing projections, and especially Ryan Rumery and Christian Frederickson's original music, the effect is suitably gleaming, shiny, and a bit empty.
Talbott's ferocious climactic scene is undercut somewhat by a lack of convincing motivation on Trevor's part to withhold a crucial piece of information, though the problem isn't insoluble. The short coda is a good idea not yet landing with the force it could. And it's wise not to dwell too much on just how hard it would be to pull off the show's central deception. I initially also thought that Danny's racism was too obvious too early, while Emilie's homophobia was not. But as I thought about it more, I decided that was because this gay white man was unsettled by seeing a character like Danny behave in such a casually uncomprehending way. That's why "The Submission" is an important play. It makes you stop and think.
Presented by MCC Theater, by special arrangement with the Lucille Lortel Theatre Foundation, at the Lucille Lortel Theatre, 121 Christopher St., NYC. Sept. 27–Oct. 16. Tue. and Wed., 7 p.m.; Thu. and Fri., 8 p.m.; Sat., 2 and 8 p.m.; Sun., 3 p.m. (212) 352-3101, (866) 811-4111, www.theatermania.com, or www.mcctheater.org. Casting by Telsey + Company.