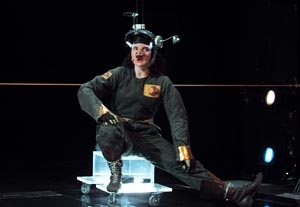 For an antidote to workweek weariness, see Cynthia Hopkins' astonishing and sweet space opera–cum–self-discovery journey
The Success of Failure
(
Or, The Failure of Success
). Hopkins' music-theater performance enlightens while it entertains; she's a hipster more warm than cool. This piece is the last in her
Accidental Trilogy
, but each work has a different story, and all you need to know is explained while you watch.
Hopkins has an original, winning voice—as both writer and singer. Her clarity of tone and passionate delivery evoke Natalie Merchant; indeed, Hopkins has opened for Patti Smith. She sings her own compositions throughout the show, in the first part accompanied by somewhat bombastic theatrical arrangements, in the second by herself on keyboards, accordion, and guitar. If her lyrics in the second half feel a bit on-the-nose, their sincerity still hits the heart: "It's not a sin to wonder why/A sin is something that makes you cry/Or causes pain in somebody else/If you ain't got love, keep your hands to yourself."
The first part of
Success
is set several billion years in the future. The protagonist is Ruom Yes Noremac, a brave pilot and member of the post-human, snub-nosed Druoc race. Her mission is to save the Earth from the ILUC—the Inter-Galactic League for Universal Consciousness. The story is framed as a tale told by a parental glowing orb to a curious offspring. Hopkins plays all the roles with occasional silent and hilarious assists from Jim Findlay and Jeff Sugg, the team responsible for the outstanding set, video, and production design.
It's eventually revealed that Ruom is really Cameron Seymour (Ruom Yes Noremac spelled backward), a woman from 1979 and the one recurring figure in all parts of
The Accidental Trilogy
. Seymour is based on Hopkins' mother, Anne Seymour, who died of cancer when the performer was a teen. The character sees the ILUC are not the enemy. She learns that all things are mortal, and that by   failing to save the Earth, she can save the universe.
The offspring orb dislikes that ending and comes up with an alternative, and suddenly we're plunged into Act 2—though there's no intermission. Hopkins—downstage in front of panels with diagrams connecting
mother, manic episode
, and other terms—explains her own journey and her "black hole" of amnesia following her mother's death. Director D.J. Mendel keeps this confessional lively, and the T-shirt-wearing, energetically dancing Hopkins appeals. She says she's done with "this method of weaving truth into grotesque fiction"—but not, I hope, through with us. Here's hoping her healthier future includes more theatrical songs to sing.


An Accinosco Production in association with Joel Bassin,
presented by and at St. Ann's Warehouse, 38 Water St., Brooklyn, N.Y.
May 26–June 7. Tue.–Sat., 8 p.m.; Sun. 4 p.m.  
(718) 254-8779 or www.stannswarehouse.org.