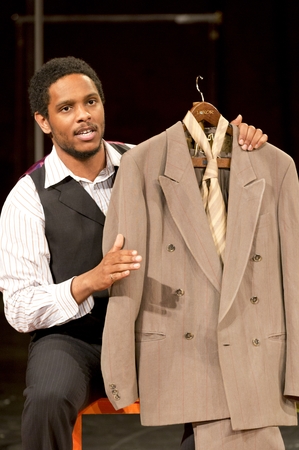 Those familiar with director Peter Brook's work over the last decade or so—most recently in New York "The Magic Flute," "Love Is My Sin," and the soon-to-be-revised "Fragments"—will know what they're getting into with "The Suit." Once Europe's foremost interpreter of Antonin Artaud's theater of cruelty, most prominently displayed in his searing productions of work by Peter Weiss and Jean Genet, Brook turned not long thereafter to a lighter touch. By now his actors' bare feet and flowing costumes, simple sets with wooden pieces to be carried across the stage, and the casual camaraderie he produces between audience and performers are as signature and expected as the laser-sharp light cues and geometric hand movements in a Robert Wilson play. When not paired with the epic scope of, say, "The Mahabharata," Brook's theater of immediacy can be as warm and forgettable as a vaguely happy dream.
"The Suit" almost follows this model. Brook and his Théâtre des Bouffes du Nord team—co-director Marie-Hélène Estienne and composer Franck Krawczyk—have adapted the play from a short story by South African authors Can Themba, Mothobi Mutloatse, and Barney Simon. Having now reached American shores after a lengthy global tour, "The Suit" tries very hard to seduce its audience with the warm air and free-flowing music of black life under apartheid. Even the constant threat of police violence that haunts the plot is absorbed, in this rendering, into sultry atmospherics. With the interpolation of jazz-era songs such as "Strange Fruit" and "Feeling Good," along with a small onstage band pouring delicate music into every scene, one could be forgiven for mistaking the setting, under Philippe Vialatte's epic lighting, for Tennessee Williams' Louisiana.
What kills the mood, though, is the play's overly magnanimous attitude toward the cruelty of its premise, which focuses on a husband's unusual punishment of his adulterous wife. Specifically, she is made to carry her lover's suit wherever she goes, care for it like a child, feed it three meals a day, or else be killed by her husband. Unlike Williams' plays, in which such easy misogyny tends to damn the characters, "The Suit" asks that we accept such disempowerment as status quo. Rather than give the poor woman the dramatic personhood that she lacks in her own home, Brook restricts the wife's movements. And he casts the lovely but stiff Nonhlanhla Kheswa, who only comes alive onstage when she sings. By contrast, William Nadylam's husband is given plenty of opportunities to charm the audience. When he's not sadistically wounding his wife's pride, he succeeds with a disarming tenderness.
The most confident of all the performers is Jared McNeill, who doubles as the husband's best friend and the master of ceremonies. He nearly manages to frame "The Suit" as a universal parable of crime and forgiveness. But the chill cast by the protagonist's cruelty prevents Brook's magic spell from taking hold. Some dreams, Brook unintentionally reminds us, are not for everyone.
Presented by Théâtre des Bouffes du Nord and the Brooklyn Academy of Music at the BAM Harvey Theatre, 651 Fulton St., Brooklyn, N.Y. Jan. 17–Feb. 2. (718) 636-4100 or www.bam.org.
Critic's Score: C+