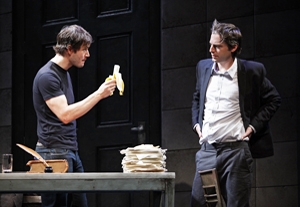 With the plethora of movie stars on Broadway these days, it was only a matter of time before someone wrote a comedy about what it's like to be the poor schmo standing by for the likes of Jude Law, Hugh Jackman, or Daniel Craig. You'll probably never get the chance to go on, and if you ever do, most of the audience will likely walk out. Theresa Rebeck, one of our most prolific playwrights, tackles the subject in a mostly witty three-hander called "The Understudy," currently being presented by Roundabout Theatre Company at its Off-Broadway space, the Laura Pels Theatre. Rebeck has lately specialized in works about show business and actors ("Our House," "The Scene") and offers some pithy insights into the special travails of the performer's life.
The setting is an empty theatre during a put-in rehearsal for the new understudy in a Broadway production of a recently discovered script by Franz Kafka headlined by a huge cinema star and an up-and-coming luminary. Harry, the understudy for Jake, the second lead, is bitter that he is barely earning a living from the theatre and the occasional role on "Law & Order" while Jake garners millions for vapid adventure pictures. Jake has his own status issues. In addition to wanting to break out of the action-hero mold into more-serious roles, he's the understudy to his co-star, the unseen Bruce, who earns 10 times as much per picture as Jake. To complicate matters, the stage manager, Roxanne—also a frustrated actor—is still recovering from her relationship with Harry, which abruptly ended six years earlier when he walked out on her two weeks before their wedding. She hasn't heard from him since.
There are credibility problems here. Though Kafka has been on Broadway before (Mikhail Baryshnikov in "Metamorphosis" in the late 1980s), it's unlikely that a depressing script from the dark genius would make it to the Main Stem in today's economy, even with two movie stars. It's also unheard of for a star to understudy a fellow star. In addition, Rebeck gets lazy in places: She relies too much on conversations and monologues addressing the audience being overheard via dressing-room loudspeakers. Moreover, the monologues, delivered by Harry, are inconsistent with the naturalistic style of the play. Either give some to Roxanne and Jake or cut the device altogether.
Still, "The Understudy" has plenty of pointed observations on the frustrations of trying to be an artist in a crassly commercial world. Directed by Scott Ellis with straightforward speed and economy, it's a fast, funny 90 minutes. Julie White, probably the sharpest comedian working on stage today, makes Roxanne a delightfully conflicted figure: supremely competent at putting a show together but a mess when it comes to her personal life. Watch her twisted dance of anger as she hides her head in her sweater when she realizes she must work with her former lover. And the way she brandishes her cell phone like a weapon when she threatens Harry with calling the producers to fire him if he doesn't straighten up and fly right is an acting lesson in itself.
Justin Kirk tends to push Harry's manic rage a bit much at times, but he captures the pent-up intensity of the barely working actor. Mark-Paul Gosselaar is more than just a pretty face and body as Jake. During his pretentious ramblings about Kafka, you can see his intention to get beyond the stereotype of a good-looking action hero.
The versatile set by Alexander Dodge and lighting by Kenneth Posner artfully reveal the on- and offstage worlds of these three, as do Rebeck's entertaining words.
Presented by the Roundabout Theatre Company at the Laura Pels Theatre, 111 W. 46th St., NYC. Nov. 5–Jan. 17. Tue.–Sat., 7:30 p.m.; Wed., Sat., and Sun., 2 p.m. (212) 719-1300 or www.roundaboutheatre.org. Casting by Carrie Gardner.