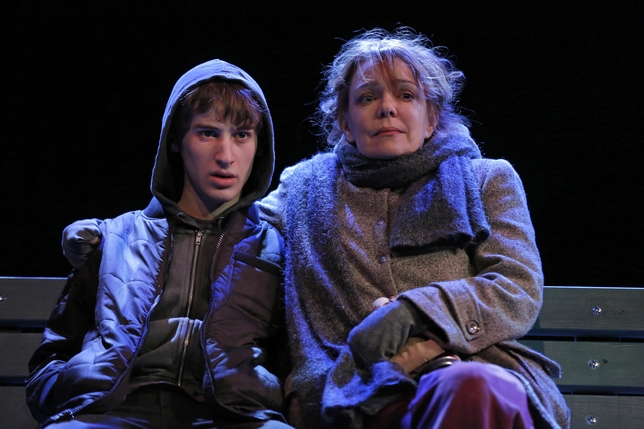 It seems that acting is but one of Hamish Linklater's talents. His play "The Vandal" is getting its world premiere downtown at the intrepid Flea Theater, and Linklater's gifts for characterization and naturalistic dialogue are immediately apparent. Structurally, this study of three lonely and damaged people haltingly attempting to connect relies excessively upon manufactured surprises and though only 70 minutes takes too long to make its point. Still, thanks to first-rate performances and Jim Simpson's careful, perceptive direction, Linklater's playwriting promise comes through forcefully.
Linklater tells his story in four two-person scenes. We begin with a weary middle-aged woman waiting for a bus in Kingston, N.Y. A teenage boy appears and attempts to engage her in conversation. He is as voluble as she is terse as he skitters from observation to observation, tells hyperbolic stories about his friends' suicides, and tries to manipulate her into buying him some beer from the liquor store across the way. Unexpectedly but believably, he eventually succeeds. Scene 2 involves the woman and the liquor-store owner, a no-nonsense guy who reveals himself as the boy's father. He's interested in the woman but not in fulfilling her request, and they dance a tango of one-upmanship. Linklater replicates the couplings for Scenes 3 and 4.
No one is quite what he or she seems. Is the woman a patient from the local hospital or visiting a friend there? Is the man divorced or a widower? Are the boy's outlandish tales mere inventions? All three tell lies that they later retract as Linklater teases out their problems and insecurities. A final piece of information causes everything to make sense and leads to a quiet and touching conclusion.
Simpson has assembled a heavyweight cast, who turn in uniformly splendid performances. Deirdre O'Connell delivers a wealth of detail about the woman in both silence and speech and is startlingly effective in an abrupt, furious meltdown in the liquor store. As the owner on the receiving end of that eruption, Zach Grenier is gruff and tough yet has an underlying vulnerability that suddenly flashes into the open in an outburst about the process of recovery from grief that Grenier handles superbly. Noah Robbins gives the boy sufficient charm to leaven some annoying adolescent behavior. Full of energy and guile, Robbins' caffeinated teenager is laced with an intriguing melancholy that pays off handsomely.
Set designer David M. Barber makes creative use of the Flea's intimate main-stage theater, and Brian Aldous' moody, tightly targeted lighting refuses to reveal surprises in advance, though I was occasionally puzzled as to why Barber's evocative backdrop of a lonely road winding by a cemetery was sometimes visible and at other times barely seen. Claudia Brown's well-observed contemporary costumes and Brandon Wolcott's understated sound and music complete yet another top-notch Flea physical production.
"The Vandal" reminded me of a short story and might possibly have worked better as one, as misdirection can be more easily hidden in the atmospherics of prose. Still, as a play it's well worth your attention.
Presented by and at the Flea Theater, 41 White St., NYC. Jan. 31–March 3. (212) 352-3101, (866) 811-4111, www.theatermania.com, or www.theflea.org.
Critic's Score: B