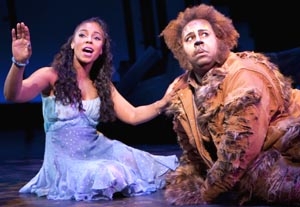 What a refreshing summer storm! This innovative revival of
The Wiz
, the 1975 soul and rock adaptation of L. Frank Baum's classic fairy tale, drenches the audience with a downpour of pizzazz and talent while proving that the Encores! Summer Stars series can be a solid platform for fully staged shows. Best known for concert readings of obscure tuners, Encores! recently branched out with limited runs of complete productions. So far the series has had one hit (
Gypsy
), one miss (
Damn Yankees
), and now a home run.
The team behind
In the Heights
—director Thomas Kail and choreographer Andy Blankenbuehler—creates imaginative variations on Geoffrey Holder's original Broadway staging, which cleverly employed dancers and props to create tornadoes, flying monkeys, and the Yellow Brick Road. Kail and Blankenbuehler have much of the spacious City Center stage to work with. Set designer David Korins has ingeniously devised an upstage environment for the orchestra that incorporates Dorothy's windblown farmhouse and the exotic land of Oz. A chorus of athletic dancers and stylish singers, costumed with flair by Paul Tazewell, romps through it and the open downstage area, creating an urban version of Baum's fantastic journey. Music director Alex Lacamoire leads the orchestra in a spirited performance of Charlie Smalls' dynamic score.
This joyful express train slows down only when the top-billed Ashanti and Orlando Jones stop singing. Both performers' lack of stage experience is evident in their inability to create through-lines for their characters. As Dorothy, the attractive Ashanti is a golden-voiced blank slate, barely registering any emotion. When the Wiz flies away in his balloon, leaving her stranded, she seems no more upset than if she'd missed the morning subway to work. The recording artist sings her big numbers with power, but she may as well be a contestant on
American Idol
, as she is totally unconnected to Dorothy or her companions. As the Wiz, Jones is an exciting musical performer but shows only a small spark of life in his spoken scenes.
Fortunately, the rest of the cast fulfills both the vocal and dramatic requirements, balancing the fantasy elements with the serious intent of the show's message of self-reliance. They also overcome the shortcomings in William F. Brown's thin book. Christian Dante White's Scarecrow evokes predecessors Ray Bolger and Michael Jackson in his rubber-limbed performance while still creating his own sweet straw man. Joshua Henry's Tinman taps out a solid "Slide Some Oil to Me" and croons a soulful "What Would I Do If I Could Feel?" James Monroe Iglehart makes the Cowardly Lion a comically conflicted neurotic. He stirringly delivers his half of "Be a Lion," a duet with Dorothy.
The enchanting LaChanze doubles as Aunt Em and Glinda the Good Witch, opening and closing the show with pyrotechnical renditions of "The Feeling We Once Had" and "Believe in Yourself." Dawnn Lewis and Tichina Arnold are a riot as two disparate witches. William B. Wingfield, John Eric Parker, and Juson Williams stand out in smaller roles.
Despite the weakness of two central performances, this is a wiz of a show and with some recasting could easily ease on down the road to a Broadway run.
Presented by Encores
!
Summer Stars at New York City Center, 131 W. 55th St
.,
NYC. June 18
–
July 5. Mon. and Tue
.,
7 p.m
.;
Wed
.–
Sat
.,
8 p.m
.;
Wed. and Sat
.,
2 p.m
. (
No performances Fri
.,
July 3, and Sat
.,
July 4
;
additional performance Sun
.,
July 5, 7 p.m
.) (
212
)
581-1212 or www.nycitycenter.org. Casting by Jay Binder/Sara Schatz
.