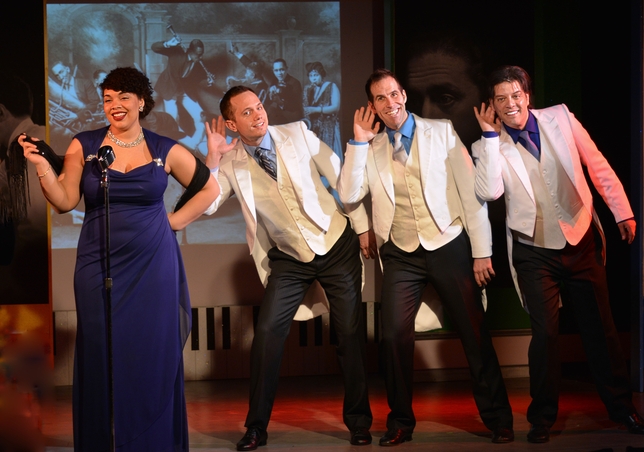 If you're in the mood to hear some of the top standards of the Great American Songbook, from "Stormy Weather" to "Over the Rainbow," you might want to bundle up and head over to St. Luke's Theatre, where "The Wonderful Wizard of Song: The Music of Harold Arlen" is holding forth. Or, if the winter weather is just too foreboding, you could just pile a stack of old 78 rpms on the Victrola (or even download Pandora) and listen to the same songs being sung by such talents as Frank Sinatra, Judy Garland, Ethel Waters, Tony Bennett, and on and on. The pleasure quotient would be at least about the same and probably much more.
"The Wonderful Wizard of Song" is a likable and brisk survey of composer Arlen's work, performed by a trio of male singers known as the Three Crooners and gal vocalist Antoinette Henry. They get solid backing from a three-piece band under musical director and pianist Andrew Smithson. The Crooners consist of George Bugatti, a co-conceiver of the show and its writer; Marcus Goldhaber, and Joe Shepherd. The group's moniker is an anomaly; the three, especially Bugatti and Goldhaber, have distinctive legit voices, and they meld together in lots of close harmony and modulations. Henry adds a big creamy sound in solos such as "Blues in the Night" and "Come Rain or Come Shine." The four performers also take turns narrating snippets of data and anecdotes about the life and career of Arlen, who died in 1986 at 81. They tell how this son of a cantor combined Hebraic and African-American musical strains to give his music its special character. The text also gives nods to at least two of the major lyricists with whom Arlen worked: Johnny Mercer and E.Y. (Yip) Harburg.
Much of the show is relentlessly up-tempo or upbeat. Director Gene Castle's choreography has the guys strutting busily around the stage. There are appropriate changes of designer Amy Pedigo-Otto's costume pieces, and Josh Iacovelli's set and lighting are highlighted by mood-enhancing projections, including personal movies that Arlen took himself on the film set of "The Wizard of Oz." (Sam Arlen, the composer's son, contributed archival and historical content and is also one of those credited with original concept.)
The problem is that up to halfway through the proceedings are fairly perfunctory. The show doesn't really begin to burrow into the emotional richness of the canon until a sequence labeled "Saloon Medley," in which Bugatti's rendering of "The Man That Got Away," its Ira Gershwin lyric sex-changed to "gal," is galvanizing in its mix of anger and regret and ties in smartly with "One for My Baby" and other numbers. The show could use more of this type of exploration. It's certainly a professional and entertaining offering, but Arlen's music and his lyricists can support and deserve more.
Presented by Yellow Brick Productions, in association Shea Arender, Steven Colucci, and Jerry Rosenberg, at St. Luke's Theatre, 308 W. 46th St., NYC. Opened Jan. 10 for an open run. (212) 239-6200, (800) 432-7250, or www.telecharge.com.
Critic's Score: B-