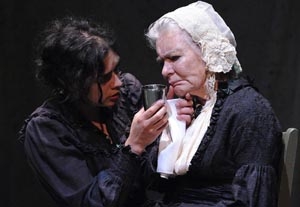 Emile Zola's shocking novel of lust, murder, and madness has long tempted adapters. Zola himself wrote a stage version; a couple of silent movies were made; the great French director Marcel Carné filmed it with Simone Signoret; numerous European TV adaptations include the BBC's with Kate Nelligan; Francesca Zambello directed Tobias Picker's operatic version; and, of course, Susan Stroman, Harry Connick Jr., and David Thompson famously came a cropper on Broadway with their New Orleans–set musical rendition,
Thou Shalt Not
. Neal Bell chose a two-planks-and-a-passion approach for his 1991 play. It's meant to boil the work down to its essence, but in the hands of director Jim Petosa, this
Thérèse Raquin
is hopelessly mired in the frozen muck of bloodless academia.
By now the story of illicit passion amidst the shabbily genteel bourgeoisie of late-19th-century Paris should be well known. A young and destitute half-caste French girl marries her sickly, effeminate cousin, Camille, at the urging of his mother, who has taken her in. But when the stifled Thérèse meets Camille's office mate, the handsome and strapping Laurent, mutual passion explodes, leading to a plan to murder her husband so they can be together. Once the killing is done, however, both become tortured by guilt, and their grand passion destroys all. The archetypal story has influenced innumerable authors, from Theodore Dreiser to James M. Cain.
Unfortunately, the Potomac Theatre Project's production drains the passion and replaces it with intellectual theater games. Restless characters pace the stage feverishly while declaiming their lines. Antagonists circle each other ceaselessly while playing a scene. Emotional distance is depicted through artificial staging that has the characters never looking at each other. Ominous upstage shadows are projected on a translucent curtain to underscore the action. A drowned corpse comes between two lovers and actually gurgles water. The dominoes that Camille's friends play are clacked in rhythm to artificially create tension or simulate the ticking of a clock. Feverish sexual coupling is staged clinically to dramatize a relationship's power imbalances. The bare set's two chairs are recombined in endlessly symbolic fashion. Finally, the doors of the theater clang shut thunderously to punctuate the dramatic climax.
We've seen it all many times before, and none of the actors manages to make it fresh. Lily Balsen finds Thérèse's petulance but not her seething resentment, desperate hunger, and resultant animalism. Scott Janes is all matinee-idol manners as Laurent; he says he's bad, but there is nary a whiff of sensuality and we never believe him. Willie Orbison has clearly been encouraged to infantilize Camille and does so gratingly. As Madame, Camille's mother, Helen-Jean Arthur underplays her middle-class gentility and overplays her post-stroke horror when she realizes the truth of what happened to her son but lacks the means to communicate it. Four other actors, who create the domino-playing friends, barely register in underwritten roles.
By eliminating any palpable sense of time, place, and milieu, Petosa may have thought he would emphasize the universal themes of Zola's work. As my companion for the evening remarked, Viola Spolin has a lot to answer for.
Presented by Potomac Theatre Projectat Atlantic Stage 2, 330 W. 16th St
.,
NYC
.
July 6
–
26. Schedule varies
.
(
212
)
279-4200 or www.ticketcentral.com
.