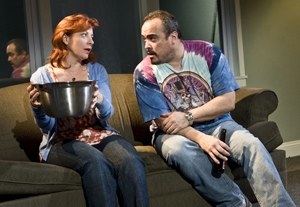 As the rapid-fire, overlapping dialogue laden with profanity and contemporary idioms flies hither and yon, often at ear-shattering volume, you can imagine playwright Melissa Ross tailoring her story and characters to LAByrinth Theater Company's determinedly edgy aesthetic. Ross has certainly allowed for some showy turns from company stalwarts. Unfortunately, in this domestic drama about damaged half-siblings searching as adults for a second chance at life, there's little lurking beneath the flashy exterior. "Thinner Than Water," well, is.
Renee, Gary, and Cassie share the same apparently hateful father, Martin (whom we never meet), but each is the product of a different mother. When the phone call comes from Martin's current companion, Gwen, that he is hospitalized and dying, the three offspring, all estranged from their father, come together to decide how to deal with his impending death. Old behavioral patterns re-emerge and bad conduct abounds. With her inability to be responsible, flaky Cassie infuriates controlling Renee, who relates to her younger sibs more as parent than sister. Underachieving, passive Gary, who works at a comic-book store, does his best to avoid. Renee's obsession with her family threatens to torpedo her marriage to the long-suffering Mark and damage their children. Dysfunctions pile up to the point that nobody even wants to answer the phone. But once Martin dies, the healing, however tentative, can begin.
Under Mimi O'Donnell's caffeinated direction, the eight-person cast sticks pretty resolutely to the surface. Elizabeth Canavan snaps off Renee's withering denunciations of others with authority but has little success finding any vulnerability in this off-putting harridan. Alfredo Narciso's pot-smoking Gary stammers and withdraws effectively, but the actor never suggests a convincing inner life for the character. Lisa Joyce emphasizes Cassie's inarticulateness and self-hatred, but she doesn't find any persuasive growth for Cassie and thus can't make Ross' contrived happy ending ring true. Only Deirdre O'Connell, as Gwen, brings sufficient emotional shadings to evoke a believably three-dimensional person. She even handles purple dialogue, such as a speech about Gwen's furiously beating heart that ends with "It doesn't want to stay here with me," with grace.
In smaller roles that often feel insufficiently integrated into the storytelling, David Zayas fares best as Mark, particularly in a wonderfully acid description of how Mark's family spends Christmas. As Henry, the upwardly mobile straight-arrow boyfriend with whom Cassie is constantly breaking up, Aaron Roman Weiner gets the buttoned-down part just fine but can't locate Henry's supposedly fierce love for Cassie. Megan Mostyn-Brown plays Angela, "a really great mom of a really great kid," according to Ross' character description. The divorced Angela is looking for a Big Brother for her young son, and Gary has applied for the job. Mostyn-Brown plays her two scenes on a single note of hard-charging self-absorption; I worried more about what damage Angela might do to her son than about the hurt the feckless Gary might inflict by disappointing the child. Benjy, a co-worker of Gary's, is nothing more than a cultural cliché and a see-it-a-mile-away plot device, and Stephen Ellis can't do anything to change that.
Ross has an annoying disdain for exposition, plunging us headlong into highly emotional scenes without the tools necessary to fully comprehend them. The pieces eventually do coalesce, but it takes too long and keeps us at arm's length for too much of the short first act. O'Donnell, as if to compensate, overindulges in ratcheting up Jeremy J. Lee's sound design to end scenes, as if searching for greater emotional impact. But that is only going to come when Ross digs much deeper into her too-facile characters.
Presented by LAByrinth Theater Company at the Cherry Pit, 155 Bank St., NYC. Feb. 15–March 6. Tue.–Sat., 8 p.m.; Sun., 3 p.m. (212) 513-1080 or www.labtheater.org.